Saturday, April 30, 2005
Critics Rascals
The article
critics rascal
by s.Anand has been mentioned by few blogs.But surprisingly everybody has trashed it.Yes, Anand has gone to the extreme in bashing rajini and kamal.But i feel his article shouldn't be completely ignored. Few points made me think.
His larger-than-life image, fan associations, frenzied reverence: all these make it impossible for the movie to become more important than the star.
Aren't we doing a mistake by still rooting for a 55 yr old rajini doing a matrix like stunt?. Aren't we doing a mistake by making the stars more important than the movie?.
I still remember seeing songs of old mgr wearing a yellow suit romancing latha or the fat shivaji sitting on another fat shivaji in tirisoolam.I used to make fun of my mother who was a big shivaji fan. I used to tell her only because of fan's like her those kind of movies get made. Now thinking about that, wont the next generation , my children's do the same thing to me.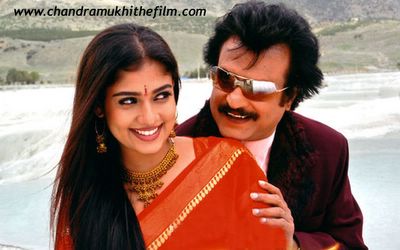 It is only because of this behavior of putting the stars above the movie that we had some absurd movies. NTR was dancing with sridevi, MGR was romancing manjula and shivaji was singing with ambika. The reason why the previous generation did it was for there eyes MGR,NTR and shivaji were still young and they didn't mind these absurd movies until there star was there. Now looking at the current situation i feel nothing has changed and we are doing the same thing once again. And probably surya and vikram are going to do the same thing with next generation.
"People like it that's why they do it"."People have to change" etc etc are the few answer's that you get. The people are no one other than me and you. I think that the article is a question to me and you?. When are we going to put the movie above the stars?. when are we going to put the cricket team above the star player?. When are we going to vote on the qualification's of our constituencies contestant's than the party that we like?. We all know what is right, but somehow we don't seem to do it.
Thursday, April 28, 2005
Kadhal
Kadhal
as the name suggest is a love story. You can pretty much guess the story, aishwarya a rich girl falls in love with a murugan a poor mechanic. Their parents oppose, they elope etc. The last 15 mins of the story is different. But to get to the last 15 mins you have to tell an age old story very interestingly for more than 2 hours. Director Balaji shakthivel and the kadhal team has done that wonderfully.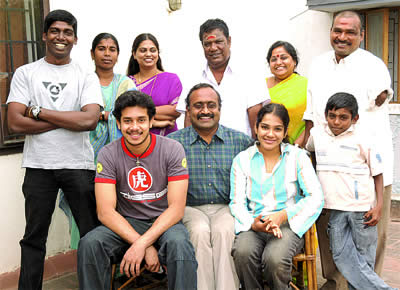 This is not another rosy love story, this movie shows the rose and the thorns too.A refreshing, realistic, non judgmental movie which portraits the beauty in simple things and laughs on the face of all the maniratnam clones. I tried to write without talking about the specific incidents in the movie. But i failed. So, for ur info there are a few spoilers.Do watch the movie if you haven't watched it yet.You can always come back and read this post :).
The movie started with some lousy graphics of a heart beating and stuff.I was little alarmed.Is this another of those kathir type movie? is this a kadhal like one of those kadhal Virus,kadhal Fm, kadhal salsa etc types?.The credits assured me that the movie is going to be different. The credits were on different snap shots on the daily life of madurai. The camera starts from the temple and roams around the city capturing some interesting shots. Cinematographer Sd.Vijay Milton and editor Sashi kumar capture your attention right from the word go. The shots captured on the credits like that of a crazy beggar, a one handed man working in a tea shop make more meaning after you have seen the whole movie.
Balaji Shakthivel: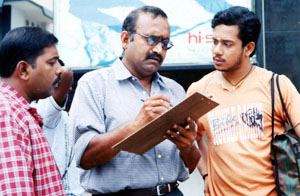 Balaji has done story, screenplay,dialouges and direction for the movie. Balaji could have gone the usual route. Start the movie with an early morning milkman putting milk in the hero/heroines house and slowly developing the characters. But he did not do that, he twisted the narration so that he can get the attention of the viewer's right from the start. So he starts from the middle when the lovers are trying to elope and goes back to flashbacks to give the complete story.
The starting scene is done nicely. There is a murugan devotees procession and it seems to touch all the important characters at the start. The boy and the girls father donate money to the devotees. Boy's mother is in the crowd and the girl's bus gets stopped because of the procession.
Murugan is eagerly awaiting for the girl, the camera zooms to show that he is picking threads from the corner of his bag, he is tensed. He feels as if everybody including the model in the hoarding is looking at him. The tone of the movie is set. This is a movie where the smallest of details are brought forth for us to enjoy. Through out the movie the director takes more time in showing scenes that no other director will even bother to think about.
The tension mounts when you come to know that these teen age lovers are eloping.Aishwarya's frightening family members and the fact that the story is taking place in madurai, makes us more concerned on there safe eloping. Tensed aishwarya hiding her face with the cap, the delayed bus, bgm and the environment gives you more tension than all the movies in which the eloping lovers are chased by a mob with deadly weapons.
The movie then goes to the start on how the pair fell in love. It is a simple teenage infatuation, beautifully narrated. The director narrates how they are foolish, restless, dreamy and idealistically romantic during that time.
There is a scene where Murugan who follows the girl, sees her dad for the first time and is frightened. He comes back to his mechanic shop resolving that he is never gonna see her again,also that work is everything and he shouldn't be loving the girl.His friend in the shop starts advising about how not to go behind girls, as it will only ruin one's life. He keeps hearing all the advice. At the same moment aishwarya comes there in her scooty, she honks, throws a playful smile and a carless glance,he is done, he is clean bowled. The BGM starts thanana nanana thanana nanana, his friend's advising voice and all the other sounds go to the background and his resolve of not seeing her again is long forgotten, he takes his bike and goes behind her. That is infatuation at its best, beautifully captured.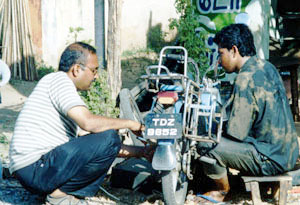 You can see hard work in every frame and every dialouge. Even characters that are not the main focus, speak some interesting dialouges. When the girl comes to the mechanic shop with her friend on the pretext of repairing her scooty. There is a tension between the two because of the comments of the girl's friend. when one is focused on how the boy is reacting, his assistant the small kid(kattayan) utters some dialogue like if murugan shows it properly he can also learn how to fix the scooty. That little character does not have to utter that dialogue at all, he is nobody as far as that scene is concerned. But it is an example of how balaji shakthivel has constructed not only that single scene but the whole movie from everybody's viewpoint.
When i heard the audio first i thought the songs are going to be shot in some foreign countries or in some shopping complex with 20 dancers. But the great thing was most of the songs where the background songs. Beautifully picturized with hundreds of small shots. Now when i hear the songs of the movie i cannot clearly pin point how the song was picturized. A whole series of love scenes come to my mind with a song.
The "Thandatti Karupaiyee" song is the pick of all.Rather than picturizing it as group of girls singing a simple song. The camera runs around the whole function, capturing everything from connecting wires into the sound systems to drunken brawls and gives a 360 degree view of the function.It breaks in between for a bit,as aishwarya takes a moment for herself, in midst of all the comotion, she feels light and starts falling in love with murugan. she breaks into the melodious "Avan parthathumey nan" song.The music changes accordingly with a beautiful humming and then comes back to the commotion with native beats.
The whole song makes you feel, as if you are watching some one's home video.Nobody looks at the camera,Aishwarya's friend laughing for a joke,her uncle from the corner of the stage ordering someone, the dancers movement matching the beats and many more scene's feels so real.But a closer look will reveal that they are careful orchestrated and brilliantly edited.
During the first half of the movie there is hardly a scene which is shot on the same spot for more than a minute. There are innumerous small scenes, it is a pain to shoot so many of these small scenes, but the kadhal team has done it to enhance the narration style. kudos to them.And also editor sashi kumar does a great job by breaking the scenes and mixing the shots.

Vijay Milton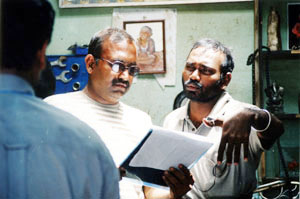 (I assume the guy with balaji is vijay milton)
Cinematographer Vijay Milton must have been a still photographer before this, there are so many beautifully framed shots. This movie could have been easily made into a colorful movie with soft lightings, polarizer and filters. But he has shunned away from them and has concentrated on presenting the subjects in natural light mostly. He has struck with what the director wanted.(This is a love story where you hardly see a flower in the frame) He seemed to have a liking for patterns, over the head shots and reflection shots.
One shot i liked a lot was in "Unnakenna irrupaen" song where the hero and heroine leave the theater late in the night, the shot is captured from the top of the theater, the couple walking and the last car takes off from the desolate parking lot with the painful backgound song.That single frame tells so much. Also he has captured some interesting reflected images of people in door knobs, helmets, vessels, rear view mirrors etc.
Sandhya:
Sandhya who played the role of aishwarya is a good find. She has acted very good and seemed to get into the roles of a school girl or a married woman easily. She has done a good job or balaji shakthivel has made her act good. Let's see how she does in her next movie.Will she get one?.It is a big question how she is going to survive competing the current Tamil cinema trend of preferring the least dressed heroines.
The movie slows down and loses the intensity after they elope to chennai.The scenes in madras are the other side of what happens to all these lovers who walk into sunsets in most of the romantic movies.The difficulties that they face in that one day, is enough to make lovers who are planning to elope think twice.Without a place to stay they spend there time watching a movie.The irony there is that these lovers are tired searching for a house all day and listening to all the disapproval of the society regarding there relationship, but the mass in the theater does not seem to have any problem in approaving the lovers on the screen.Everybody around this tired pair cheer the beautifully dressed hero and heroine who are dancing for a romantic song.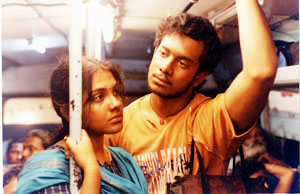 The movie then goes through the usual route and ends up with a different climax. The biggest blunder in the movie,according to me is the song "kiru kiru kiruvenna". I dont know why every director falls into the same pit. I dont know why they deliberately create a situation to make the heroine run around in scanty clothes. I think if this movie was taken in US, balaji could have been arrested for abusing a child. It is pathetic to see that small girl run in some stupid clothes.This song does not add anything to the story and was totally unnecessary.Also i wish balaji could have spent more time on the climax and gave more details about the new character who were introduced in the end.
I liked all the songs in the movie loved the painful "unnakena irrupaen" and "thandatti karuppai" with native beats.Joshuwa sridhar has also done a nice job.Naa Muthukumar has kept the lyrics simple, even though there are some vague lyrics, he compensates them with some beautiful ones.
Vizhi moodum pothum unnai piriyamal nan iruppaen.
Un Kanavukkul Kaval Irrupaen
Ullagathil ulla chithravadhaikkelam chella peyar vaithal kadhal
Who is this new singer haricharan, intresting voice,sounds more like karthick.
When ever there is a team of new comers, there are always fresh ideas and lot of hard work. It is clearly evident in this movie which has a few newcomers. The success of this movie is a fruit of hardwork done by the team Balaji shakthivel, vijay milton, sashi kumar, joshua sridhar and Na.muthu kumar. And kudos to shanker for trusting them and producing this movie. Hope balaji like many new directors hasn't spent all his fuel in his second(i wanted to say first but technically it is his second) movie. If he hasn't ,he can go a long way.
Wednesday, April 27, 2005
Debugger's needed
Blogger is getting worse everyday.Today i got an java Outofmemory error.Blogger is using tomcat 4.1.24(no wonder it is not able to take the load).Here is the exception stack trace.Anyone want to debug ?? :).
Saturday, April 23, 2005
Strategic Partnerships
After US and china. It is time for japan to court india. Japanese Prime Minister Junichiro Koizumi is visiting india on thursday.
Condi rice talked about
stratergic partnership
and promises of making india a super power, Chinese Premier Wen Jiabao said china will support india for permanent membership in the UN security council and agreed to a
strategic and cooperative partnership
for peace and prosperity. Now on the eve of Japanese prime minister india visit, Japanese ambassador Yasukuni Enoki says "Japan is ready to provide a
strategic orientation
to this global partnership by recognizing India as a major responsible power of Asia".
It's good time for india. The Rise of the Dragon is changing the equations in asia and india will be a major player in balancing the power in asia. Everybody seem to want to please india now. So far india has played it safe by being non committal and reaping rewards from all direction. Hope the indian think tank makes full use of the current situation to realize india's goal.
Society for the Prevention of Cruelty to Cricketers
Check out this nice article.
We are possessed with what I would call 'the Rama and Ravana complex'. The devotees of Krishna are allowed to call it, 'Krishna and Kansa complex'. When our cricketers win, we worship them like gods and when they loose we hate them like demons. Our cricket enthusiasm is like a gas balloon that always flying in the sky, away from the realities at the ground, but once punctured it falls flat on the ground. For us cricket is not a game, it's either over-inflated ego or punctured pride. It's either national glory or national disgrace.more
Friday, April 22, 2005
Dileep
I happened to stumble upon a indian store which has lot of mallu movies,which is kind of rare in US. You can always find stores carrying telugu and tamil movies but not malayalam or kannada movies.The last month has been a mallu month for me.I checked out on all the mohanlal movies that i missed in last 3,4 yrs. I heard that dileep is now the superstar and his movies are doing better than mohanlal and mammotty. so thought i will check out some of his movies.
Here are a few movies that i saw. All the movies are clean movies with varying dose of comedy. All of them are light comedy movies without any big fights or other unnecessary stuff and all of them had good songs.
Sadanandante Samayam
The comedy dose is less in this movie but a nice story.It is a story about a guy who has blind beliefs. Sadhananthan(Dileep) is born in a wrong time. His mother dies giving birth to him.The astrologers predict that he will bring lot of bad things to people around him.From there starts his belief on all old customs and blind beliefs. He does all kinds of pooja's so that his bad stars wont affect others.But lot of times his blind beliefs not only affects him, it also affects others who are dependent on him. He gets married to kavya madhavan and has a kid. one day he meets an astrologer who tells him that he will die in a month or so. He believes it so much so that he resigns his job, get's insurance on his name and starts doing things believing he will die soon. Whether he dies or not is the climax.
The movie has some nice songs, especially
Ommalaley & the qawwali number "Tharivalla"
music by mohan sithara.
Thilakam
A normal story, with lots of comedy. Dileep gives a nice performance as a crazy guy. Nedumudi venu believs that dileep is his lost son and brings him to their village. kavya madhavan falls in love with him. Dileep later gains his sanity and there is a twist in the tale.
The crazy dileep has a unique habit, which is very comic and its a laugh riot with him in the first half.The movie has some nice songs. The tamil song "Enna thavam seidhanai" by chinmayee(yes there is a whole tamil song like many other mallu movies) comes at an appropriate time in the story(unfortunately that song is not there in musicindia)."
Ennikoru penn undu
" is a beautiful number by kjj and sarey sarey sambarey is a fun song.
Kalyana Raman
Dileep is a wedding planner. who meets Navya nair at a wedding. He gets his brother married to navya nair's sister. on the eve of navya-dileep marriage navya's sister dies in a fire accident. Again when they think about doing dileep-navya's marriage, the astrologer tells that any bride who gets maried into the family will die. Navya's father who has already lost one girl getting married to the family , does not want to marry navya into the family.Whether they get married or not is the climax.
There is lot of comedy scenes with dileep and innocent. There is a beautiful melody "
Kathayiley raajakumaranum
" by kjj.
Meesa Madhavan
No big story.It's about a loveable theif madhavan and his efforts to recover a small peice of land that was mortgaged long before. A light movie,with lot of comedy scenes.The songs are nice.Music by vidhyasagar.
There is a beautiful songs called
"Ente ellam ellam"
by Kjj and sujatha. The song is on a situation when madhavan breaks into the house of his lover and starts singing the song in a slow voice, so that nobody will hear him.I absolutely loved KJJ and sujatha's singing and was watching the song in an endless loop. I didn't know who the female singer was until sujatha uttered "Ninodu mindilla gyan.." and i loved kavya madhavan's expression's for those lines .There are some other good songs also "karimizhi" which has interlude music like "Aasai Aasai" from dhool and "chinga masam".
Gramaphone
An ordinary story. dileep is son of a great music director. There family is poor now and he tries to make ends meet. Meera jasmine is a jew and her family wants to go to the holy land by marrying her to someone who is in israel.But she is in love with dileep.There is a love triangle and an usual climax.All the songs are good.
Guess what is meera jasmine's hobby instrument.It is a Cello. hmmmm when did directors start thinking beyond a hallow guitar.Music by vidhyasagar, he has done a
good job
(Thank god vidhyasagar didn't introduce his favorite "Udith Narayanan" in malayalam). Dileep's father is supposedly an expert in making gazhalish folk songs. so some of the songs have those gazalish folk flavours.The song 'oru poomazha' reminds the old tamil song "malargal malardhana paniyaley".
Pattanthil sundaran
This movie has the least comedy dose compared to all the others.Dileep is a village guy who is running is own ration shop.He loves his wife radhamani (Navya nair) who is more educated than him. navya nair gets a job in city. Dileep does not want her to go to the city.But he agrees later due to pressure from everybody. He goes with her to the city, but secretly makes plans to make her leave the job and return to the village. Lot of drama follows. Again KJJ rocks with this song.
Kannanayal radha vennum
From my cell phone
I know i have to get a better camera phone.But for now iam struck with this one.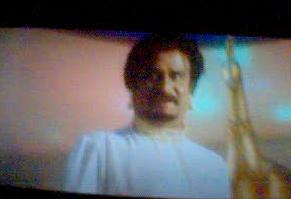 The King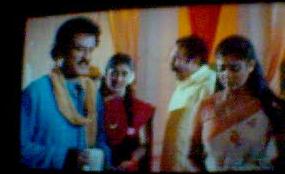 athi1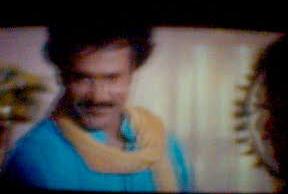 athi2
bose
The first 3 pics are obvious.Let me explain the 4th pic.It is a fan's group taking picture before the chandramukhi poster.
WHAT you don't beleive me?.
I promise it is bunch of guys before the CM poster.
Still not beleiving me??.
Let me explain it to you in S.ve.shekhar style.Remember the joke where he shows a blank paper and says that he has drawn an airplane and passengers getting out of the it......
Do you still need explanation??
Wanna See Venice ??
Thursday, April 21, 2005
Kadavulley
I love the song "Adhi kalayil sevalai" from
Nee varuvai enna
.It is a very romantic song.I used to imagine the lines, a young lover pleading with a rooster to roost in the morning, so that he can see his love earlier.Also there was something very familiar and catchy about the tune .
Iam right now in a malayalam art phase, checking out mallu movies and mallu songs.I heard the song
Kaaveri Theerathe
which started with the same feel as that of the "Adhi kalayil...".Suddenly it dawned on me that the song is on the tune of a devotional song.Even though this is very familiar song, iam not able to exactly point out which devotional song it is.Iam totally clue less when it comes to devotional song.I wouldn't know, even if it is from supratbatham.Can any experts help me??.
Wednesday, April 20, 2005
Mohanlal movies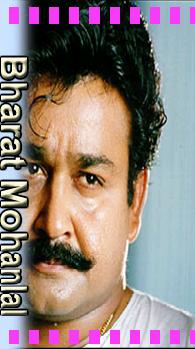 i was discussing with
zero
on the
Mohanlal
movies that got remade/inspired.Thought i will post those movies that i know here.
1.Gandhi Nagar 2nd Street -> Anna nagar mudhal theru(sathyaraj)
2.
Devasuram -> Mallu vetti minor(sathyaraj)
3.Chithram -> Engirundho Vandhan(sathyaraj)
4.Nadodi kathu -> Kathanayagan(pandyarajan)
5.Sanmanassullavarkku Samadhanam ->Illam(siva kumar)/Mera ghar thera ghar(sunil shetty)
6.Vietnam colony -> Vietnam colony(prabhu)
7.Manichitratazhu -> Chandra mukhi(super star)
8.Thenmavin Kombathu -> Muthu(super star)
9.Kireedom -> Gardish(hindi)
10.Thalavattam -> Manasukkul Maththappu(prabhu)
11.vandanam -> Sambavam(Tamil)/
chithram

Nirnayam
(telugu)(nagarjun)
12.vanna vanna kanavugal(karthick). I forgot the exact name of the mohanlal movie somthing like adi ozhukugal
i havn't seen these one.but i heard they were also inspired.
13.Cheppu -> lesa lesa(madhavan)
14.Minnaram -> Azhagaana Naatkal(karthick)
15.Bharatham -> Seenu(karthick). Guess who would have the courage to remake a classic like bharatham in tamil with karthick as the hero. It is P.Vasu. Nothing is impossible for this guy.Thank god i didn't see this movie.
Tuesday, April 19, 2005
Spring has sprung
I hear the birds chirping & bees buzzing.Spring is here.The tree before my house has come a full circle.The ugly tree which was a symbol of sadness is blooming with flowers now.I feel as if the tree was bearing all the hardship's to see this day, to remind that there is a spring for every one of us.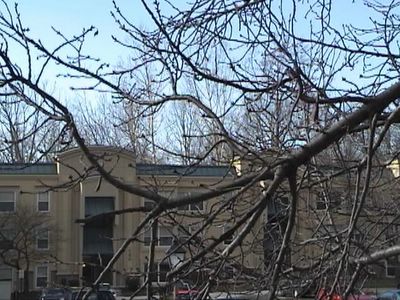 Fall
Winter
Spring
Monday, April 18, 2005
Mumbai Express - Kamal get's it right
Kamal get's it right this time. He pretty much took care of all of my peeves against him.Iam not sure whether it is the story, or whether somebody has been guiding kamal or atlast kamal has learnt his lessons. Kamal is on dot with mumbai Xpress. Lot of his usual things were not present in the movie.
#)No Information overload
#)No Exhibitionism
#)Equal opportunity to all the characters
#)Simple narration style
#)No sexual antics
#)Using the environmental objects in the story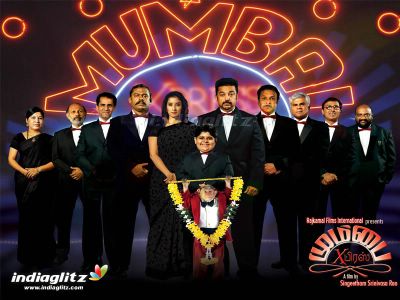 The story is a kidnap gone astray. When the kidnap plan is revealed at the start and when you see pasupathy a.k.a Mr.A hanging in the air from the crane. you are assured that this is a plan that is bound to be doomed .The story moves at break neck speed in the first half, it kind of slows down in the middle and then again goes back on track.
Kamal has built the movie on a structure that was used by many famous english comedies. Well how much he has got inspired in this movie is to be seen. But he has left his usual way of indulging and has given great respect to the integrity of the story. Hasn't gone out of the story for anything. He has struck to the story line, used minimal characters, has given equal opportunity to everybody, has cleverly used the environment and has kept the cost down in the movie. For me this is how a movie has to be made.
The first half of the movie was hilarious, non stop laugh riot. If i have to rank the actors in the movie it would be
1.Pasupathy
2.Nasser
3.Kamal
Pasupathy has done a great job. This is a movie more on the lines of michael madana KR. Iam sure i missed a lot of jokes as things where happening so fast, repeated viewing would bring out more jokes.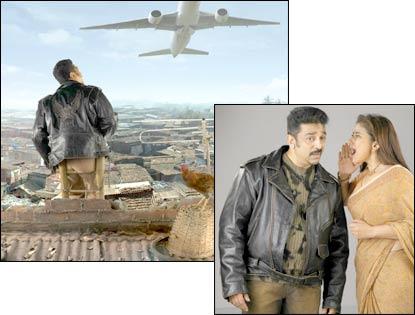 via
rediff
There were a few flaws in the movie. Kamal is still making movie for people assuming that everybody knows what he knows. Using another language like telugu is great, but not everybody knows the language and the word comedies get lost because of that. when i was laughing out loud on some dialogues my friends were looking around.
Similarly the ending, he could have left the movie with the avinashi character escaping from the police. un necessarily he comes back to say that typical mumbai people that the characters are, they patch up and "All's Well That Ends Well"(a typical english movie style ending).Again somebody has to know the significance of that line and one should be aware of the north indian way of business where money comes above any emotions. When a software engineer sitting next to me cannot understand the ending, how can a farmer in gopichettipalayam would be able to understand it?.Also i feel kamal should stop doing sentimental scenes.He cannot even act as a sentimental person anymore.
oh did i say the digital filming sucked. I wished i could right click on the screen and increase the resolution of the screen. And illayaraaja was wasted. For 80% of the movie there was no background music and the songs that were in the sound track where used as passing songs in the background. Well i was angry with kamal for not using some of the songs in virumandi, he kind of does the same in this movie also. I dont know why he is misusing Illayaraaja(see s
riks
comments on this).
I was glad about few thing, one is that the movie version does not have vande mataram song. Instead of stretching and shrinking the vande mataram song they have done it with some other prayer song.Secondly there was no direct jokes on the hero's handicap "The deafness".
other than those flaws i thoroughly enjoyed the movie. I hope kamal will keep making movie in this way. Let's see whether the vethal is climbing back to the tree with his next movie.
Saturday, April 16, 2005
Chandramukhi - Me too
Well i also happened to see the talk of the town this weekend. Having seen manichithra thazhu already i was there more for the festive environment than anything. The movie started with all the typical rajini melee, started slowing down after a while and in the end fan's even started making fun of rajini, when he was explaining about the psychological aspects.
For someone getting to know the story first time. The experience will definitely be different.But my viewpoint here is about things other than the main story.Looks like Rajini wanted to steer clear of all the political flavors in this movie, that is clearly evident from choosing this story to not letting Vairamuthu write any lyrics.But that has brought down half of the fun. As far as this movie is concerned , the story is the hero.It wouldn't have made any big difference if sharath kumar acted rajini's role.Rajini is not bringing in any of his strong skill into the movie.
This is a different rajini movie for sure. Rajini has to be commended for choosing the subject. To a certain extent the movie struck to the original story line. Rajini looked younger than how he was in baba and he looked a lot younger in the king attire. That attire fitted him perfectly.
via
allindiansite.com
The only mistake that rajini did is, he choose P.Vasu as the director. This stupid XXXXXX(choose one of the bad words from your dictionary) has done a pathetic job in the movie. Instead of exploiting the strengths of rajini , he has totally wasted it. One of the major alterations that he did to the original was adding a snake. I don't have a clue what was the purpose of this whole animated snake thing, it brings down the movie to a rama narayan flick level. And similarly he didn't have to include all these vulgur jokes. Even some of rajini's dialogues where censored, i don't remember when was the last time rajini's non-political dialogues where censored.
some of the vadivelu rajini jokes were hilarious, but by making vadivelu react and keeping rajini serious, vasu again has made a mistake. Rajini's forte is those simple facial expressions and reactions. He gave them to vadivelu and deprived rajini of the lime light.
Genius Vasu's other great modification from the original story is nothing but another cut and paste from another malayalam movie("Aaram thamburan").He failed to develop the characters like the original version and also he exaggerated everything.The split personality changes where more subtle in the original versions.
The songs could have been picturised better , except for Annanoda pattu, athindhom(who was the responsible for that dress, light blue kurtha and cream color shaal) rest of them were just ok.The choreography was nice for both the songs. Prabhu still dances gracefully with a big grin in his face. SPB rock's as usual. Again the songs lack the vairamuthu lyrics.
Vasu clearly is not in the league of suresh krishna or K.S.Ravikumar.He has forgotten the simple fact that rajini movies don't need a great story. They will run just for the larger than life personality of rajini. He has got lost into the nitty-gritty of a complex story rather than bring out the rajini touches. Given the fact that there is no villain to challenge rajini.All it needed was a few comedy scenes where the lime light is on rajini.instead of wasting time with the snake or on that dumb henchman character he could have added some simple jokes for rajini.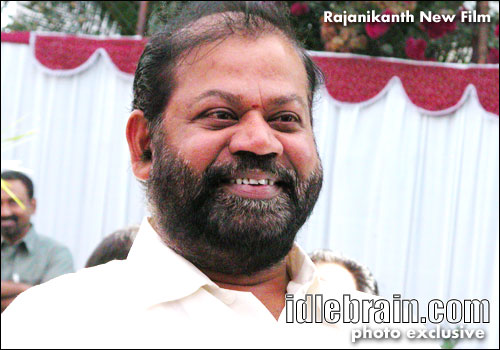 Repeatttuuuuu
At the end of the movie you see the credits "direction by P.Vasu". What the hell did he think he has accomplished. I wish i could personally run a bull dozer over him and after the bull dozer passed over him, when the camera zooms in for a close up i would say, REPEATTTUUUU and do a reverse gear and bulldoze him again.
Thursday, April 14, 2005
Happy New year
Wishing all the tamilians, sorry tamilians & malayalees, sorry tamilians/punjabies and malayalees, sorry tamilians/malayless/punjabies and bangla people , ok ok let me stop it hear.Wishing everyone who is celebrating a new year today a very happy new year.I knew about tamilnadu,kerala and punjab but was surprised to hear that april 14th was a new year in the
bangla
calendar too.I looked up and here are the other countires apart from bangladesh that have new year around april 14th.Burma,Cambodia, Lao, Thailand and even
Sri Lanka
.
Vishu
Baisakhi
Pahela Boishaki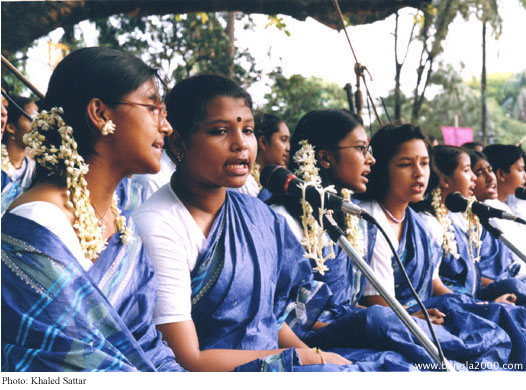 songkran
Sri lanka
Burma maha thingyan
Assam Bihu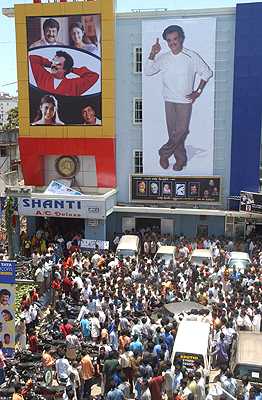 Tamil New year :)
via rajinifans.com
atleast that is where the
crowd
is going to be.Experience it
here
.
more
More Links
Baishaki pics
Bangla
Laos
Wednesday, April 13, 2005
Padam Onnu: Oru Vilapam( Lesson one: A wail)
Did anybody notice who got the best actress award in 2003 when vikram won the best actor award for pithamagan?.It was meera jasmin, for her role in 'Padam Onnu: Oru Vilapam'.I vaguely remembered her from 'RUN' when i saw this movie. she looked so young in this movie, for half of the movie i thought this was someone else,probably meera jasmin's sister or something. She has given a very god performance in this movie as a teen age muslim girl.Meera jasmin won the best actress award from both the center and state for this movie in 2003.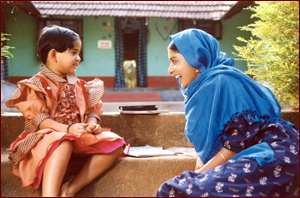 I saw mohanlal's Kilichundan Mampazham couple of week before and the things that i liked about the movie was its
Malappuram
background and music.The muslim culture in that part of kerala was very fascinating. But it was a priyadarshan movie and everything was light hearted and beautiful.I saw this movie after two weeks and it is a complete about turn.This movie portrays how bad there customs and way of life is.
This is a movie with a strong social message.A certain scene comes couple of times in the movie, you overlook it at first, but in the end that same scene gets a very significant meaning and it breaks your heart.The movie leaves you with a feeling of helplessness. Read a detailed review
here
I don't know why many of the indian parallel cinema directors drag the scenes. I guess, it has become a de-facto standard in indian parallel cinema. why do you have to show a guy approaching the house for 10 minutes. It is evident from a few shots that the person is coming to the house. The directors could cut short these sort of scenes to keep the user engaged in a different thing and also save some money. There are a lot of scenes like that in this movie.I think the movie could have easily reduced 15/20 minutes of unnecessary scenes.
T.V.Chandran
the director has given a powerful social movie.The background music is by jhonson.I personally felt the background was pathetic. But seems he bagged the state award that year for his score in this movie.
Aryadan shoukath
son of ex-minister Aryadan Mohammed has produced the film,he has also written the dialouges and story for the movie.It is great to see, people like aryadan shaukat doing a introspection of there own communities.As expected this movies seemed to have drawn some
protest
.It would have gotten a different color if it would have been written by some one else other than shaukath.
A very different movie, not for the regular masala type movie lovers.
The Newspapers said
Meera Jasmine has been conferred this year's 'National Award for the best actress' for her outstanding performance in the film 'Padom Onnu Oru Vilaapam'. She surpassed more than 40 nominees, including the likes of bollywood superstar, Aishwarya Rai. With this, Meera Jasmine becomes one of the youngest actress in the entire nation to ever achieve this milestone.
The National Awards Jury said
Meera Jasmine has outclassed her competition. The jury's was a unanimous verdict and we took little time to arrive at our decision. She was a clear-cut winner among the candidates.
more links
IIFI
Newport Beach FF
Bangladesh Best film
hindu