Tuesday, October 12, 2004
Thiruvasakam in symphony
Thiruvasakam in Symphony is ready.This great project which is one of its kind is almost finished.Undertaken completely by IR fans and people who wanted to promote quality arts and literature, the musical CD will be released shortly.This project which was started almost 2 years back had become a reality now.All the recordings are done and the final cut is ready.It should be out by early 2005.
The hindi version was put in back burner.The lyrics that gulzar wrote was not doing justice to the saying. "thiruvAchakaththukku urukAdhAr oru vAchakaththukkum urukAr" (If thiruvasakam is not able to melt you,no other script will).The english version is being done by "Stephen Schwartz".There was lot of translation issues here also.
Thiruvasakam starts like this.
namachchivAya vAzga nAdhan thAL vAzga
imaippozudhum en nenychil nINgAdhAn thAL vAzga
which Rev.G.U.Pope has translated as(read his complete translation
here
)
"Hail, the five letters! Hail, foot of the Lord !
Hail, foot of Him Who not for an instant quits my heart !"
namachivayam is a 5 letter word in tamil.which is translated as "hail the 5 letter's".It seems the 5 letter denotes the 5 elements.Manika vachagar is hailing lord shiva who supposed to be the 5 elements.All these in 2 words in tamil "namachchivAya vAzga" how can u exactly translate this in english :) ?.Well let's wait and see.
TIS home page
TIS USA home page
Monday, October 11, 2004
Uma bharathi
As usual uma bharathi is creating political ripples.BJP has given her a show cause notice.It will be intresting to see how things are going to develop in the coming days.I still remeber this beautiful picture.This was the picture of her swearing in ceremony when she won the state election in 2003.For a dalit sanyasin, she had to come a long way to attain that position.It was her moment of greatness and she was thoroughly enjoying it.Great picture, only thing that was missin was a tiger and couple of weapons in her hand.
Saturday, October 09, 2004
En Vaaniley Orey Vennila
This week's vikatan carried an interview of Jency.Yes the sweet voice behind some of Illayaraaja haunting hits of late 70's & early 80's.When i started gathering more information on my favourite, early hits of illayaraaja.All the songs had one thing in common,the singer.It was the same name again and again, Jency*. i used to wonder who this person was.she sang for five years from 1978 - 1982 and suddenly disappeared.She sang mostly for Illayaraaja, one song for gangai amaran and shankar ganesh.There was no picture of her, nobody seemed to have any information about her.There were lot of roumours that she died, etc etc.It was a sweet shock to see the face of that great voice.Apparently she married and moved to kerela and was taking care of family life.She want's to sing now it seems.Let's hope to hear her voice again.
Song

Film

Year

Aada sonnarey

Vattathukkul sathuram

1978

Adi Penne

Mullum malarum

1978

Akka oru rasathi(JC)

mugathil mugam paarkalam

1979

Aayiram malargaley(MVD –PS)

Niram maaratha Pookal

1979

Aththoram

Engeyo ketta kural

1982

Deiveega Raagam

Ullasa Paravaigal

1980

Devi Senthoora Kolam

Durgadevi

En Gaanam Engu Arangerum (With IR)

Eera Vizhi Kaaviyangal

1982

En Vaaniley Orey Vennilaa

Jhonny

1980

En uyir nee thane(KJY)

Priya

1978

Geetha Sangeetha (JC)

Anbae Sangeetha

1979

Hey Masthana( SPB,VJ,JC)

Azhage unnai aaradhikkiren

1979

Idhayam poguthey

Puthiya Vaarpugal

1979

Iru Paravaigal Malai
-Muzhuvathum

Niram Maaraatha Pookkal

1979

Kaadhal Oviyam

Alaigal Oivathillai

1981

Kalyanam Ennai Mudddikka(Rajesh,Radhikha)

Metti

1982

Mayiley Mayiley Un
-Thogai Engey (SPB)

Kadavul Amaitha Medai

1979

Meen kodi Theril

Karumbu Vil

1980

Naan mayangi(IR)

Ellam un Kairasi

1980

Naan naan aadanum poo naan paadanum

poondhalir

1979

Namthana Namthana(B vasantha)

Puthiya Vaarpugal

1979

nee illaatha pothu

ilamai kolam

Poo Malarnthida

Tik Tik Tik

1981

Pooththu Nikkuthu (MVD)

Yechchil Iravugal

1982

sirusu chinnanjirusu

azhage unnai aaraathikiren

Theertha karaithanile(KJY)

thai pongal

1980

Thottam Konda Rasaavey(IR)

Pagalil Oru Iravu

1979

unakkena thaane inneramaa

Ponnu oorukku puthusu

vaada en raajaa kannaa
-vaadadha roja poove

rishimoolam

Vaanathu poonkili (with SJ)

Thiripurasundari

1978
And this great number under the banton of Shankar ganesh
Paniyum neeye malarum naane(with SPB) - Pani malar -1981
*I later found out that, lot of songs by unknown singers were credit to jency.
songs like "devan thiruchabai malargaley" which was originally sung by Poorani and Indira
is credited to jency
Wednesday, October 06, 2004
Final Frontier, Conquered
The Australians have conquered the final frontier.They have broken the 35 year old jinx.Was a great disappointment for the indian fans.Event thought the serious had its usual IND Vs AUS drama.Everything was sealed after the 2nd test match in chennai.we can invent reasons like, if it didn't rain, we would have won the match and the morale would have been up, if Kishor Pradhan, the nagpur pitch curator would have shaved more grass of the pitch, if lakshmipathy was fit.But the bottomline we lost it.
This series seemed to lack something from the former one's.Let's remember some great moments these teams have produced and hope for some great test matches in the future.
2001 Eden gardens

The greatest comeback match.History was created on eden gardens march 2003.Dravid and VVS made a permanent seat for themselves in the cricket folklore.From a follow on to 171 run victory india crushed the aussies.And of course bhajji sealed the victory with his 13 wickets.
The stars of the match VVS & bhajji taking a
victory Lap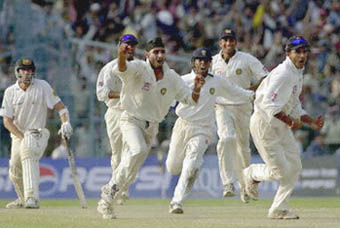 The team celebrates the last wicket, McGrath Lbw Harbajan

check out the
score card
2003 Adelaide
Dravid scores the winning runs

Again the same pair of rahul dravid and VVS gave a great victory for india.sourav said
Dravid,Laxman batted like God.
The Score Card
Read More about it
here