Thursday, June 30, 2005
Bazaar 1982
Sagar Sarhadi's Bazaar is a wonderful movie which talks about the state of poor muslim women in hyderabad. The movie rips your heart, potraying the condition of por muslim women and how everything is done within the limits of the religion.This movie came out in 1982.The sad thing is that after all these years we still hear news of people from gulf shopping for girls in hyderabad.
The movie follows 2 threads, a sweet love between Sarju(farooq sheik) and Shabnam(supriya pathek), the other story is about Najma (smitha patil) trying to settle down in life with her lover Akhtar Hussain(Bharat Kapoor).Salim (Naseeruddin Shah) comes as a well known poet who is in love with najma ,even though she is akthar's woman.
Akhtar Hussain's busisness depends on his boss Shakhir ali khan.shakir who returns from abroad asks him to find a girl for him.He is a old guy who has his own fmaily ( a wife and 3 sons).Akhtar asks najma to help him find a girl in hyderabad.Najma who lives in the boss's house given to akthar says yes as the boss threatens to take the house and business from them, if they dont help him.
Najma books tickets to hyderabad, and they decide to go find a girl and fix the marriage in 10 days.So Najma,akthar.salim,boss and another friend go on a trip to the hyderabad Baazar to BUY a girl.
Shakir ali khan likes shabnam(supriya pathak) who sings in a family get together.Najma fixes the marriage without knowing that her brother (farooque sheikh) is in love with her.Whether farooq sheik marries shabnam? what happened to najma? is the rest of the story.
Like the heroines of the previous movies umrao jaan,chakra & arth all najma wants is a house and family of her own.This movie unlike the other ones is not a personal story but a social commentary.
All the characters in this movie seem to have a longing.Either for love or money.There is two one sided love affairs salim's love of najma and shabnam's friend nasreen's love for sajju.
The movie will shake you, with its realistic portrayal and the sad conditions that prevail in those area.The romance between farooq and the beautiful supriya is shown very well.shabanam after singing at the meeting tells him not to ask her to sing before unknown peoples and asks him to hide her from the society and let nobody other than him see her.This sensitivity of that pretty girl acts as a counter point to the open bride buying process of shakir ali khan and makes to think not only sarju but us also to protect her against any evil.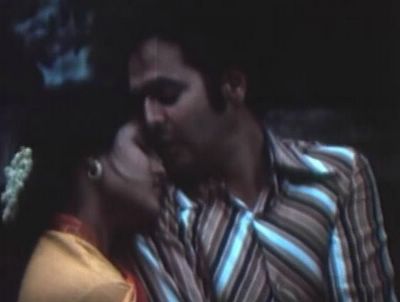 Salim is the only person who opposes everything.Najma realises her mistake but carries on cause her marriage also depends on that.Salim argues that
if shakir ali khan comes and asks a dad that he wants to buy his girl, the father will kill him.But if the same shakir ali khan, takes the support of religion, custom and asks his teen age daughter for marriage, that man wont refuse.Cause that is what in the society.He will marry her daughter saying that it is her fate.
Good performance by farooq sheikh,nasrudeen smita patil & supriya pathak.
The movie is studded with deadly gazhals.
Phir Chiddi Raat
by Lata Mangeshkar &
Talat Aziz
Lyrics : Makhdoom Mohiuddin
It is hard to choose the better song when all are good.But my pick from the movie would be this song, talat aziz's velvetty voice the beautiful supriya pathak and farooq sheik singing it in a moon lit night.just awesome.I felt that lata shouldn't have sung this song.The song would have been lot better if some body else with a softer voice would have sung the song.I felt the velvetty
Talat Aziz
and lata were not a good combination.
This is what Talat had to say about the song. "Phir chhidi raat baat: A song typical of Khaiyyam Sahab. Even today it is a must sing in my live concerts. The song was set in raga Bageshwari and in those days singers would sing duets together and with the orchestra. Two of my first three film songs were with Lataji and this one, from the film Bazaar, was the second of the duets. It was written by Makhdoom Moin-ud-din."
Dekhlo Aaj Hamko
by jagjit kaur Lyrics : Mirza Shauq
Sajju wants to see shabnam for the last time before her marriage and they get to meet.Shabnam sings this song."Dekhlo Aaj Hamko Jee bharkhey" (See me to your heart content).
I saw the movie and liked this song.i heard it again after a couple of weeks.The slow pace of the song and jagjit kaur's haunting voice, just floods you with the pain and the sweet romance of supriya pathak & farooq sheik.In seconds,you are transported into their world.
Dikhai Diye Yun
by Lata Mangeshkar Lyrics : Mir Taqi Mir
This is the song that shabnam sings at the family meeting.Beautiful melody by lata mangeshkar.The song is interpreted differenly by the different love pairs sitting there.
Karoge Yaad To
by Bhupinder Lyrics : Bashar Nawaz
This is the song that salim sings thinking about his old memories with najma.Beautiful lyrics.
yeah chandh bithey zamano ka aina hogha
(This moon will become the mirror of the past)
There is one marriage song
Chale Aao Saiyan
by Jagjit Kaur, Pramela Chopra Lyrics : Mirza Shauq
Liten to all the bazaar songs
here
The movie was nominated for Best film,actor,actress and supporting actress roles at the 30th filmfare awards.It lost almost all the awards to movie like shakthi,prem rog etc.Only Supriya pathak got the Best Actress In A Supporting Role for her part in this movie.Smita patil lost the best actress national award to shabana azmi in Arth.I think smita deserved the award that year if not for bazaar atleast for arth.
Wednesday, June 29, 2005
Arth (Meaning) -1983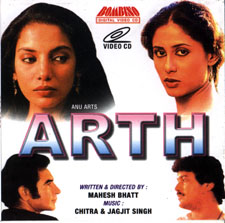 Arth is one of the few good movies that mahesh bhatt directed.The movie is supposedly a cinematic version of his real life affair.The movie was a bold one given the time frame in which it got released. Viewing it now, you might not realize it.But havn't seen any other movie which talks about empowering women in the early 80's.The story supported by some excellent acting from smitha patil, shabna azmi and kulbushan karbanda makes it stand aside from so many movies of that era.
if chakra's amma wanted a home for herself.Her rival in this movie pooja(shabana azmi) wants the same thing.Pooja brought up in an orphanage, dreams of a home of her own with her husband Inder malhotra(kulbushan karbanda).Inder malhotra a film director on the other hand is having a relationship with actress kavitha sanyal(smita patil).kavitha who suffers from psychotic disorders makes inder divorce her wife pooja.When Pooja starts facing life on her own,she comes across Raj(Raj Kiran) who is a singer.Raj is in love with pooja.At that same time kavitha breaks up with inder.Inder wants to get back with pooja.Pooja's choice is the climax of the movie.
The movie as the name suggests is a search for the meaning of love,marriage, relationships and life itself.The movie ends with raj saying that the courage and self confidence that pooja has at the end of the movie is the real meaning of life.A beautiful ending with a bad smile from shababa azmi.
The movie exposes the mistakes of our male dominated society and the different moral scales we use to measure men & woman,rich & poor.
The awesome Rohini Hattangadi plays a cameo as the maid servent at pooja's house.She supports her drunkard husband , who is having an extra marital relationship. It is a clash of titans with the 2 lead heroines.Shabana azmi and smita patil supposedly were competing against each other in the acting department in ARTH.Smita is a force in the movie.She plays the insecure psychotic person with eratic change of moods beautifully.She is someone who is in constant fear, fearing everything from her loneliness to inder's love.
where as for shabana the change in her character is gradual and subtle.It is the transformation of a dependent housewife into an independent & self confident woman.Pooja gets shocked when she hears about her husband's love for the other woman.Then she pleads with him and her, after that she puts up with everything with the hope that things will change, then she leaves his house still harboring hopes of his return.After starting to face life by herself she gets the confidence and even readies herself to take the responsibility for another life.At that point she is not afraid of anything and is ready to face the world all by herself.Acted well by shabana.
Personally if given a chance i would have given the award to smita(she also had another good movie, baazar that year), but the national award for best actress that year went to shabana azmi.Iam not sure whether it is because ARTH is more about pooja(shabana) rathen than kavitha sanyal(smita patil).Kulbushan as usal does his part perfectly. The weakest of the characters is raj.He is that all good man character that comes in so many stories that deal with hurt women.He falls in love with shabana just like that and is very persitent about that.Gulshan grover plays the role of smitha's assistant and comes in 2,3 scenes.I was surprised to see the young gulshan gover.There is also Siddharth Kak(producer and presenter of surabhi serial) who comes as pooja's friend's husband.
The story is supposedly from mahesh bhat's own life.Mahesh Bhatt was married to Kiran (Pooja and Rahul Bhatt's mother) and was involved with the
parveen babi
who had schizophrenia.Parveen babi was supposedly upset with him for portraing her as a person with schizophrenia and she broke up with him after that.But the fact is , the movie turned up good cause mahesh was true to the story.You can see that he himself is selfcritical in the movie.Inder is an egoistic person who takes the women for granted and is happy to do a use and throw.Also the movie shows men(inder, rohini's drunkard husband) in bad light.
The movie won the Best Actress for shabana azmi at the 31st film fare awards.But just the best actress, rest of the awards where swept off by Nihlani's ardh sathya and shekhar kapoor's masoom.Well film fare was Fare in those days.At the national level again only the best actress was awarded to ARTH.Shabana got her 2nd of her 5 national awards and first of her hat trick national awards.That year best actor national award went to kamal for his role in balu mahendra's moondram pirai.
This movie could have been the inspiration for KB's manathil urudhi vendum.Not just on the concept of independent woman, there are other similarities too.Pooja after moving out of her house, starts living with a high class call girl which was same as that of MUV.Other than that they are very different movies, there is not many similarities between them.That credit will go to marupadium.Balu mahendra pretty much remade Arth in tamil as marupadiyum.This is the who and who of marupadiyum characters
revathi - shabana azmi,
rohini - smita patil,
nizhalgal ravi -kulbushan karbanda ,
arvind swami -raj.
If you wondered why there were 3 very soft similar sounding songs in the tamil version.It is cause they were 3 gazhals by jagjit singh in hindi version.
Do you remember arvind swami with guitar.
The music director of arth was jagjith & chithra singh.It has some beautiful gazhals.Lyrics by kaifi azmi(shabana azmi's father).I loved
jhuki jhuki yeh nazar
, a beautiful song.
Listen to Arth songs
here

When i saw the movie i started thinking why would an acclaimed director like balu mahendra remake a movie like Arth ?. that too after 11 years??.Why would he cast rohini out of the blues to play the part of the actress?.Is it because it was played by the darker smita patil or is it just because he likes dark actresses like shoba/archana/Mounika etc.And when i read pithamagan director bala's article in vikatan i used to wonder why he was so mad with his mentor?.Was Balumahendra like mahesh bhatt telling his life story to the world through marupadium ?.I dont know.
Supposedly this is not Balu mahendra's only inspired film.
1.Rettai vaal kuruvi -> Micky & Maude
2.azhiyaadha kolangal->summer of 42
3.Sathi leelaavathi->she devil
4.Olangal -> Man, Woman and a Child
Tuesday, June 28, 2005
Chakra (Visicious Circle) - 1981
This is a movie that is right opposite to umrao jaan. If umrao was about the elite few who had a refined taste and lead an opulent life.This is about those wretches who has to bear so many things and live in the worst of the conditions. In a way this movie is also a womans search for her HOME which results in life coming a full cycle.
This is the story of a slum dweller Amma(smita patil).The movie not only captures amma's life realistically but also the environment and the people in that slum.This movie is so realistic that you might wonder whether this is a movie or a documentary. when every body was taking movie with songs in kashmir, here is a movie which goes deep into the life of people living in slums.A very unconventional movie.I still havn't seen a movie which portraits the live of slums people better than this.I dont knwo whether there is any connection between this movie and Durai's(Pasi), for which shoba got the best actress award the year before in 1979.Chakra still remains the best movie ever made about the lower strata peoples of our cities.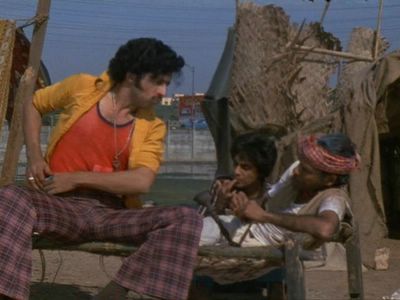 ---------
The movie starts with the flashback of how amma and her husband escape the village and end up in the slums.Amma's husband dies when police shoot him for stealing something. Amma lives with her only son Benwa(ranjit chaudhary).Looka(Nasrudeen shah)is the local Dada, who is loved by all. Benwa attracted by looka, goes around carrying knifes , but amma does not want his son to get into unlawful activities and end up like his father.Amma has a Lover, a Truck Driver(kulbushan karbanda).
All amma wants is a small house for herself and her son to be out of trouble.She kind of get's her house of her own but turn of events , makes her dream turn sour. And she ends up at her starting place of the vicisious circle(chakra).
-------
The movie shows a different world, where its inhabitants have a different set of moralities. Arrack drinking women, two timing women, prostitutes, men earning by illegal ways,kids aspiring to become a knife wielding henchmen etc.It also depicts there sorry state.People getting killed for a bowl of grains and there houses getting demolished by the government at whim.
It portraits how they have to struggle every day ,yet how they have the world with hope after every obstacles in their life.The movie does not get emotional or make us feel pity for them.But rather it makes us understand their life.A life where there is constant demolition and construction, Hope and failures, birth and death.The chakra continues.
The movie will give you 3 unforgettable characters.
Amma(
smita patil
) :
what an actress.I was awed after seeing her performance in bhumika,mandi & arth.With chakra iam convinced that she is a very rare talent. Smita plays the role of amma , beautifully. She has this laid back attitude of the slum woman all through out the movie.It is hard to believe that her performance was acting.she pretty much has lived the character. There is a public bathing scene which will show her conviction, in acting these types of roles.For me, she has become another testament for the proverb "The Good Die Young".
Lukka(Nasrudeen shah):
Nasrudeen shah is awesome in this movie.He comes as a colorful criminal, who later gets affected by syphilis.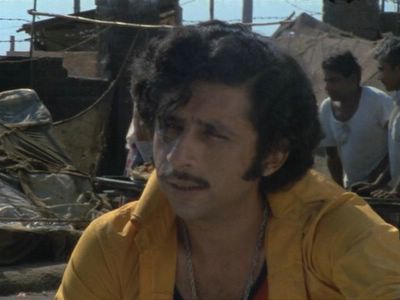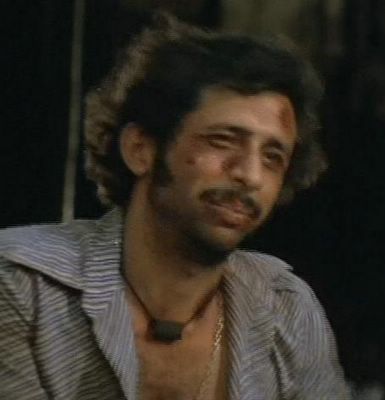 Benwa(ranjit chaudhary):
What kind of an impact can you make in a movie,when you are acting with giants like nasrudeen shah and smita patil.That too if you are a new comer, who has acted only 4 movies.Ranjit chaudhary as Benwa(Amma's son) gives a stealer performance. I found his face familiar, but was not able to remember any movie that he acted.Later i realized he was the same kid who played rusie mistry(a karate practicing sportsman) in
khatta meeta
.But i wonder why more opportunities didn't come his way.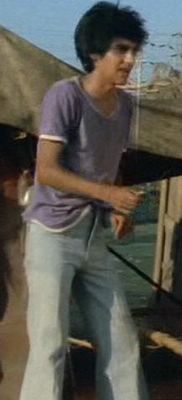 The movie has some good actor playing small parts.Rohini hattangadi, kulbhushan karbanda who as usual does his role to perfection. Was surprised to see many young faces sathish kaushik, Salim Ghouse etc.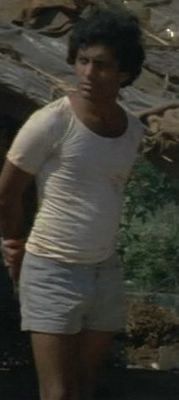 Salim Ghouse who acted in subah serial, chinna kounder, vetri vizha
This is a film sponsored by the NDFC, based on the novel chakra by jayanth dalvi.It was directed by first time director dharmaraj.Un fortunately he died after shooting the movie.This remains his fist and last great work.
The movie has some interesting names in the credits.As usual script dialogue writen by shama zaidi and javed sidique.Music By hridayanth manjrekhar(brother of lata mangeshkar).There are 4 songs in the movie
1.Ubi, aankhon mein tuti -- By bhupinder singh (Title song )
2.Jeene marne ke chakkar -- By bhupinder singh
3.Raat Andheri -- By Suresh Wadkar , Ravindra Sathe
4.Kaaley kaaley -- By Lata Mangeshkar
and my pick is Kaaley Kaaley.
Great work done by the art director Bansi chandragupta. Background score by amar haldipur.The credits said "special assistant to the director" - Rajkumar santhoshi.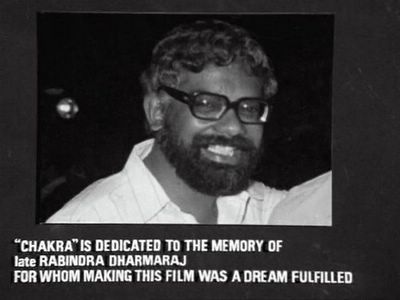 The film fare best actress,actor and art direction went deservingly to smita patil,nasrudeen shah and Bansi Chandragupta for chakra.At the national level smita patil got her second best actress award.The movie lost the Best film & direction o Mrinal Sen's (Akaaler Sandhane) and best actor to balan nair for his role in Oppol .
links
smita patil
smitha patil a tribute
Monday, June 27, 2005
Umrao jaan -1981
The lucknow of the 19th century has a magic in it.A time period when various art forms reached its peak.A golden age of arts.This is one of those movies that beautifully portraits that time period.
The story is based on a classic Urdu novel 'Umarao Jaan Ada' by Mirza Ruswa.The english version of the book was called "
The courtesan of lucknow
" ,Translated by Khushwant Singh and M. A. Hussaini
Screenplay & dialogue's are by Shama Zaidi, Javed Siddiqui, Muzaffar Ali.I was surprised to see shama Zaidi's name.This shyam benegal favourite has associated herself with so many great projects from garam hawa to bose.
---------
Umrao Jaan tells the story of a courtesan set in Lucknow of the early 19th century.Young girl Ameeran is kidnapped and sold in lucknow.She is bought by khanum a brothel incharge. She changes ameeran's name to umrao jaan.Umrao jaan grows up into a talented singer,dancer and a poet.She becomes a sought out tawayf(courtesan).
A nawab(Farooque sheikh) who hears her
gazhal
from the street, is attracted to her.After a brief affair he desserts her. she then escapes the brothel with a famous dacoit(raj babber),who later gets killed.Umrao moves to kanpur and leads an independent life and earns a name for herself as a good shayir.she is forced to move back to lucknow and she is again struck in the brothel.Sepoy mutiny breaks out and she again escapes lucknow and end up in her home town.Life comes a full circle for umrao.That is the short short story of the movie.
---------
The movie follows the life of this one girl.who is uprooted from her protected family and brought into a different world.A world of glitz and glamour, a world where her only purpose is to make others happy.She becomes a nightingal kept in a golden cage.A lonely soul in a crowd.she hopes to be rescued by her knight in shinning armour,but again and again she gets disappointed.Poetry becomes her channel to let out her pain, disappointment and love.And all the songs in the movie are beautifully penned to express it.The movie is her longing for a home,freedom and recognition.
The film is a gazhal on celluloid.It does not go to any extremes to invoke pain or passion.Everything is controlled and light.At the same time there is a lonliness and pain, throughout the movie.
The director muzaffar ali carefully avoided giving lot of dance scenes to rekha and made her do all the songs sitting.That was a smart move.He didn't do what bharathiraja did with Radha in kadhal oviyum.It was a punishment for both the actress and the audience.
Urdu, mehfils, tawaifs, gazhals, shers, hookha's, dazzling dresses,beautiful houses and kathak performances takes you to a different time period.Lot of credit goes to the art director,make up specialist and dress designers for re creating that time period.
Urdu like telugu, has a innate beauty.There is something very attractive about the language.And when it penned with beautiful lyrics and rendered with an great voice, the joy of hearing it increases many fold.And all the songs in this movie do that.
Six Beautiful songs by khayyam makes this movie a landmark one.It is said that composer Jaidev was originally asked to do the music for the film, but the director Muzaffar Ali was not impressed with the tunes,he rejected all jaidev's tunes and Khayyam was given the job.The result was magic.
Asha Bhosle's voice was recorded at a scale lower than her normal voice to give Rekha a husky, sensuous throat it seems.I wished khayyam did the same with lata mangeshkar in his other movie Bazaar.
Lyrics are by Shahryar, even though lot of people like "
Dil cheez kya
", my pick would be the "
In Aankhon Ki Masti
".Asha bonsle has set out with a mission to intoxicate you with this beautiful melody.The song has this sarangi piece which adds so much sensitivity to the song.
In Aankhon ki masti ke mastaaney hazaaron hain
In Aankhon ki waabasta afsaaney hazaaron hain

Ek tum hi nahi tanhaa, ulfat main meri ruswaa
Is shahar main tum jaise diwaaney hazaaron hain

Ik hum hi mai aankhon se pilaatey hain
kahney ko to duniyaa main mai-khaaney hazaaron hain

Is sham-e-farozaan ko aandhi se daraatey ho
Is sham-e-farozaan ke parwaaney hazaaron hain



"There are thousand crazy men for my eyes intoxication
these eyes have spun a thousand tales

You are not the only one who has disgraced himself for my love
There are thousand like you in this city.

There are thousands of pubs in the world,
but iam the only one who can feed you a drink from eyes.

you are threatening this bright flame with a storm
This bright flame has a thousand moths(fans)"
All the songs are sung by asha except for one "
Zindagi Jab Bhi
" by Talat Aziz.
zindagi jab bhi teri bazm mein laati hai hamen
ye zamin chand se behatar nazar aati hai hamen
.....
.....
har mulaqat ka anjaam judai kyun hai
ab to har vaqt yahi baat satati hai hamen

when life bring you close to me,
this world looks more beautiful than the moon to me,

why should seperation be the conclusion of every meeting?
Now every second, this is the question that troubles me
This is what talat said about that song."Zindagi jab bhi:"
Khayyam Saab is a perfectionist. For the line surkh phoolon se mahal uth-ti hui in this song from Umrao Jaan, he wanted the word phoolon to be spoken in Lucknowi Urdu andaaz and not in the Hyderabadi Urdu way. He took pains to get it right. To this day I do not like my own singing in this song. But Khaiyyam Saab said it was fine and till today, it is one of my most popular numbers. Incidentally, it was my first ever film solo. Khaiyyam Saab kept a promise he had made to me at a private mehfil in Mumbai, in 1978. I also loved the songs I sang for him in Lorie.
1981 was an intresting year.There were lot of good movies competing for the awards.Movies like Chakra, sai parajpaye's Chashme Buddoor, k.balachander's Ek Duje Ke Liye,shyam benegal's Kalyug, hrishikesh mukherjee's Naram Garam, Aparna sen's 36 chowringhee lane etc.
Asha won the National Award for best singer for umrao jaan and rekha for best acting.I feel rekha's performance was average and she does not deserve an national award for the film.jeniffer kendal's beautiful protrayal of "Miss Violet Stoneham" in "36 Chowringhee Lane" was far more superior than rekha's performance.But some how the award was given to rekha.
In film fare(It wasn't that commercial as it is now) khayyam won the best Music director, and muzaffar ali best director.Chakra was not considered with umrao jaan for the national awards, but was considered in the film fare.so the fim fare best actress and art direction went deservingly to smita patil and Bansi Chandragupta for chakra.Shahryar lost the lyrics category to Anand Bakshi for Ek Duuje Ke Liye.
***Latest news is that umrao jaan is being remade by j.P.Dutta with Priyanka chopra or Aishwarya rai in the lead.
Hear the umrao jaan songs
here
Links
The courtesan of lucknow
at amazon.com
Tamil review
of courtesan of lucknow.
80's women characters
I have been seeing lot of good movies lately. Thought i would write about some of those great movies. This week iam going to write about the movies that came in the early 80's.India saw the raise of New wave of cinema in the mid 70's with shyam benegal making some great movies.It was at its peak in the early 80's,with many new faces coming to make realistic movies.Off the movies of the early 80's iam going to focus on movies which had women as the central characters. Many of the women character in these movies where very different from the main stream heroines of that time period. And many of them broke the conventions that a women character is supposed to follow in those time periods. For starters let me start with a not so hard hitting movie, Umrao Jaan

Friday, June 24, 2005
The Hungry Tide
Step into a fascinating world of Ganges dolphins,crocodiles, Royal bengal tigers, the river's that change the landscape of the numerous islands every day.Amitav gosh takes you on a near dreamy ride with his book "The Hungry Tide".It is a story that is set on the backdrop of the sundarbans.
To tell a little about the backdrop.The Sundarbans is formed by an alluvial archipelago of 54 islands, made by the waters of Ganges, Brahmaputra and the Bay of Bengal.In the Sundarbans the tides reach more than 100 miles inland and every day thousands of hectares of forest disappear only to re-emerge hours later.The sundarbans is the home of the royal bengal tiger which kills almost one person every other day in those areas.The people are in danger not only from tigers, also from crocodiles, snakes and storms.Like many exotic places with intresting landscapes, sundarbans is also filled with legends,blind beleifs, & intresting customs.
The story revolves around 2 central characters.Piyali Roy a cetalogist, born and bought up in USA and Kanai Dutt a translator who is having his business in delhi.They are both visiting the tide country.piyali for her research on the fresh water dolphins and kanai to take a look at a book left by his deceased uncle nirmal.
There paths cross and kanai decides to assist piyali in her research.kanai finds more about his uncle nirmal through the book he left and piyali comes to know more about her boat man fakir through various incidents.During the research trip piya,fakir& kanai are caught in a tropical storm.The story ends with the changes brought in by there tropical storm.
Some of the characters are very intresting like the crab catcher fakir.The dreamy communist poet nirmal etc.Even though the story is weak the book is a page turner because of the wonderful backdrop.The novel is more of a travelouge than a dramatic story.The tide country will just amaze you with its richness, brought to life by amitav gosh.An example
Piyali and fakir go to an island just before a storm.They tie themselves to a tree. when the Tide crosses them there is no island at all and the tree that they tie themselves to is completely submerged in the water.When the water receades they come up with the tree.Fakir points something to piyali.On an another tree nearby there is a royal bengal tiger hanging to it and looking at them.
There is only one place where these things can happen.Welcome to the tide country.
Amitav has researched a lot for the book and he puts a lot of info in the book.From the mythology of ganga's creation to the legend of bon bibi(a tide country god), the history of the tide country,to the unique behaviour of people who are afraid even to utter the word tiger, he also touches politics with the Morichjhapi massacre.From piyali you come to know about the information on the irrwady dophins, life of a cetalogist and other information.
Even though he weaves the seperate threads and information into the main story. At times,i felt they dont merge with the main story properly and also that amitav is giving more importance to the environment and describing the history rather than the story.It is an ordinary hindi film story told on an exra ordinary backdrop.
you may or may not like the story.But you will definitely fall in love with the sunderbans.The book is a page turner and is an intresting read.
Links
sundarbans
A UNESCO world heritage site
wikipedia
audio of amitav gosh interview
Amitav interview in hindu
amitav gosh Home page
sundarbans
bangladesh sundarbans
Wednesday, June 22, 2005
Favorite Lines
let me just stick to tamil

#Pal mazhaikku kathirukkum bhoomi illaya
oru pandigaikku kathirukkum sami illaya

minnaley ni vanthathenadi- Vairamuthu (VM) (may matham)

#)Poovukkellaam siragu moolaithathu yenthan thottathil
vinmeen yellam nilavay poonathu enthan vaanathil.

-Poovukkellaam siragu VM (Uyirodu uyiraaga)

#Aaraga selvangal thaimai, annallum en ullam oomai
kanmumbu azhagana Aanmai, naan kal alla kannivana penmai
pann badu enbargal silarey, entha pen padu ariyathar avarey
-gowri manohariyai (mazhalai pattallam)

#Kadarkarai irathiley kaal adigal nee pathikka
Alai vanthu azhithadhanal , kanni manam than thudikka
kadallukkum kuda iram illayoooo...

- VM -salai ora solai ondru padum


#Thennaillam kitrinillay thallattum thendral athu
Thennai thannai saithu vidum puyalkaga varum pozhuthu
..
Aatrangari mettiniley aadi nirkkum Nannal adhu
katradithal saivathillai, kannitha maram vizhvathillai
..
Andhiyiley mayangi nindral, kaalaiyil thelinthuvidum
anbu mozhi kettu vittal, thunbha nillai mari vidum
- Kannadasn -amaidhiyana nadhiyiniley odam


#Maa berum sabhai thanil nee nadanthal,
unakku malaigal vizha vendum
oru masu kuraiyatha thangam, evan endru poti pugazha vendum
-unnai arinthal nee unnai arinthal

#veppa mara uchiyil ninnu
pei onnu aduthunnu vilayada pogum pothu solli vapanga
unthan veerathai kozhunthikeyai killi vaipanga
vellayatra veenargalin moolaiattra varthaigallai
vedikkayaga kooda nambi vidathey,
vittukulley adanchi kidanthu vembi veitathey

- pattukkottai - chinna payaley chinna payaley

#yellaigal illa ullagam
en idhayammum adhul pol thigazhum

padum pothu nan thendral -(ullagam sutrum valiban)


#Ambhu vizhi yendru yen soonnan, athu paivathinal thannoo
Aval arunchuvai pal enna yen sonnan
athu kodhipathinal thanoo
-kamban yemandhan

#Vaanam ennak oru bothi maram,
Nallum ennak athu sedhi tharum
...
poo marangal saa marangal veesadho

-VM ethu oru pon malai pozhuthu (Nizhalgal).

#Annam potta en thaye unnakku arusi poda vanthen
yennai naaney noonthaen

-Aarariroo padiyatharoo (thaikku oru thallattu)

#)Mogam ennum maya peiyai nannum kondru poda vendum
illai endra pothu enthan moochu nindru poga vendum
degam yengum mogam vandhu yagam seium neram neram

-Mogam ennum theyil(sindhu bhairavi)


#)Kallangam vanthallenna parru, athukkum nillannu than peru
manthayilla ninnalum nee veera pandi theru

- VM Raasavey unna nambi(Mudhal mariyadhai)

#)
Yen endra kelvi ondruthan yendraikkum thangum
manithan enba thunbam ethillumk kelvi than minjum
......
Pathai vagutha pinbhu bayanthenna labham
athil payanam nadathividu marainthidum pavam

yezhu swarangallukul ethai padal - kannadasan (Aboorva ragam)

#)Pani thullikul nanum paduthu kolla aasai
chinna chinna aasai - VM (Roja)


#)uyirai koduthu, uyirai valartha kanavai marakkallama
yuthangal thondrattum rathangal sindhattum
pathai marallama (supposedly inspired by a LTTE rebel's lyrics)
tholvi nillayena ninaithaal manithan - oomai vizhigal


#)Unnai vazhtha vazhi thedi
thamizhum thallai kuniyum
-adhi kalai nillvey

Tuesday, June 21, 2005
Tag Musique !
Keerthi
Music Tagged me.So here i go.
Music is my passion.I listent to songs in tamil,hindi,telugu,malayalam and english.And listen to wide variety of genres in them too.
No. of albums I own:
Might be around 200 cassettes and 300 cd's.I dont buy the albumn unless and until all the songs are good in it.I hate to even hear one bad song in my albumn,So i select my favourite songs and record them.Used to go to ritchie street in chennai to unearth the old gems.After the mp3 revolution i collected songs that ran into GB's.but after a while i got bored and stopped collecting songs.I stopped keeping track of the tamil music scene after 1999.So The songs that are dear to me are the ones that came before that time period.
Last Album that I bought:
India 24 hours - Illayaraja
Currently Listening to:
jhukey jhukey yeh nazar by jagjith singh from ARTH
Albums that I'd want to take with me if I am alone on an Island:
SPB hits / illayaraja late 70's early 80's hits.Music from K.vishwanath movies, classical/semi classical malayalam songs, hits of Rafi, vani jeyaram, s.janaki, billy joel, eagles etc.
Songs that you are most likely to hear me sing or hum
(Song – Movie / Singer(s) / MD):
Most of the time it will be an spb number where he is improvising a lot or a song which is melodious and slow
#Dhoora kizhakku karai orram than,
thazha paranthu varum megham than
unkitta chellathoo en patta chollatho
onnaga nam kudum santharppam varathoo
Nan erikari mel irunthu -chinnathayi (KJJ) - IR
#)Mani kuruvi, unnai thazhuva, mayakkam pirakkum
-adhi kaali nilavey (Urimai geetham ??) (Jai chandran) -IR??
#)Ninaye rathi endru ninaikiraen adi kannama
(nilavey malarey ??)(KJJ ??) -MSV
#)Nitham Nitham en kannoram enbha kanna
illa malai nerangallil (kuttu puzhukaal) (SPB) -MSV
#)Ennai katti podaa oru kattu kaval illai oh my DEAR
(vasantha kala paravaigal) (SPB) - DEVA
#)Oru oosai indri mounamaga, urunguthaval manadhu
athil kalakamillai,thayakkamillai amaithiyana pozhuthu.
(paritchaikku nearm achu)(Jai chandran) -MSV
#)adhi kalai nera kaatrey vazhthu chollu - S.N.surendhar- bagawathipuram railway gate -IR
#)Odayinna naaloda olinjirunka poocholla
thanga kozhundhanukku - chandra bose
#)Ullamellam thalladuthey ullukulla ethetho ennangal poraduthey(KJJ- sj)
-thorathu idi muzhaakkam -(salil choudhry ??)
#)chithirai sevannam sirikka kandaen, muthanna muthamma
(Katriniley varun geetham - jai chandran -IR)
#)Vaalibangal odum.., vayadhaga koodum anallum anbu
(kalyana malai - pudhu pudhu arthangal)(SPB) -IR
#)Mani malai kazhuthil soodi mayakidum krishnan
mana irulgallai maykka, piranthavan krishnan
(azhaganavan sri bala krishnan - isai kku oru koil)(vani jeyram) - KVM
#)Mennikul kattru vanthu mella than ada kandaen
mangaikkul kadhal vellam gangai pol oda kandaen
(china china vanna kuil - moouna raagam)(S.Janaki) -IR
#)Sarithiramey mari poochu manasu maralaye
Yen cyclekkum unnakkum innum vayasu yerallaye... righ right
(Rakkai katti parakku thadi - Annamalai)(SPB) -DEVA
#)Meghangal ennai thottu ponathundu - Amarkalam -bharadwaj
#)Malarey mounama, mounamey vedhama - karna -vidhyasagar
#)Eley illankuiley..., azhaga thol irangum kaveiriye
malai yeduthuvaren machaney naal parthu -(Malaysia vasu-Annanukku jai -IR)
#)Poove illaya poove, varam tharum vasanthamey
madi methi thengum theney - (Malaysia vasu -kozhi kuvudhu -IR)
#)Aanandha raagam ketkum kalam
En vazhvilley oli pol( panner pushpangal - Uma ramanan - IR)
#)En vazhvilley varum anbe vaa...
nila mugam kandaen vaa(SPB-thambikku entha oru-IR)
#)Mella Mella arugil vanthu un menmayana kaiyai thottu ,
alli alli annaika thavuvaen -(???????)
#)Naan malarodu thaniyaga yen engu nindraen
en maga raani unnai kana (????)
#)Madi methu thaalai vaithu
vediyum varai thoonguvoom (????)
hindi
#)Jeeye tho jeeye kaisey - saajan (SPB) - Nadeem shravan
#)Soochengey thumey pyar karuthey nahi (Deewana - kumar shanu) - Nadeem shravan
#)premi aashiq awara, pagal majnu - (phool aur kante -kumar shanu) - Nadeem shravan
#)Aaney vaala paal, jaaney vaala hai -(Gol Maal -kishore da) -RD Burman
#)Abhi na jaoo chodukhar, abhi tho dil bara nahi (Hum Dono -rafi) jaidev
#)Dil ko tukudey, tukudey
Malayalam
#)Alapuzha pattanathil adhi madhuram - Bandhukkal Sathrukka - srikumaran thambi
#)Maaney malar amban valarkunna - Ayal Kadha Ezhuthukayanu -KJJ- Raveendran
#)Kannadi adhyamai en bhagya rubham - sargam -chithra -bombay ravi
#)Anuraga lola gathri - dhwani -kjj -naushad
#)Ambala puzha unni kannodu ni - adhwaitham -M.G.sreekumar
#)Kai Kudanna neeraye -Maya Mayooram - S janaki
Telugu
#)Marugelara O raghava - Sapthapadhi - SJ-KVM
#)Gopemma chetullo- Preminchu-pelladu - SPB/SJ -IR
#)Balapam batti bama ballu aha ehey - Bobbili Raja-SPB/chitra -IR
#)Ee nadey etho aiyindhi - SPB/Chitra -prema -IR
#) Yamaha Nagari -hariharan - choodalani undhi
#)E Manasa Manasa -tholi prema - spb- deva
#)Kothaga Rekka -swarnakamalam -spb -IR
#)Gopi lolla -ladies taylor - shailaja -IR
Favorite Singer(s)
M.S/Maharajapuram santhanam
RAFI/kishore da
S.P.B/KJ Yesudas/jeyachandran
vani ji/s.janaki
jency/S.N.surendhar/krishnachandar
hariharan/Sujatha
lata mangeshkar/asha bhonsle/shreaya goshal
mark knopfler/don heanley
Like keerthi Im also skipping the Favorite Lines section. I will do it separately, on a separate post.
I am tagging my fellow Bloggers, for Musique Tag.
ganesh
,
srikanth
,
arvind
,
ramki
Monday, June 20, 2005
Random notes on Anniyan
what do you do when your previous movie bombs at the box ofice?.
Take a movie on split personalities/Multiple personality disorder.Rajini did it, so does shankar.
Don't have a clue why it took so long to make this movie and why this big a budget?.
My thoughts on
How the money was spent?.
of the said 30/35 crores
5 crore - vikram
5 crore - shankhar
5 crore for making the movie
rest
15/20 crores - k.ravichandran converted black money into white.
The movie seems to be made on a lesser budget than gentleman.The songs except rendakka didn't carry any shankar trademark, they where average. The film's high budget is just a hype.
Story=Indian+Gentle Man + Spider Man+ Super Man
oh i left sheldon's "Tell me your dreams"
plus points in the movie are
vivek and vikram.
Vikram like rajini looks good in all kind of costumes.He is just awesome in the model costumes.
A funny dialouge in the movie.vikram:"Hey baby cmon let's go and do yo-yo".
Shankhar again makes his mark in depicting goary violence and death scenes.He seems to be in a rush with many scenes.He is not taking time to let us sink in any kind of sad or happy feeling. Harris jeyaraj has spoiled so many scenes with bad bgm.
The movie is loaded with masala elements and its a telugu style tamil movie, which might run for a while.
Friday, June 17, 2005
Narain racing
This weekend Formula one hits US.
Narayin
is racing in indianapolis this sunday.I decided not to go this time.Iam getting old to travel half way across US to watch it.I was there in 2003 when schumi won it the record 5th time.For first timers who want to go, you can get the tickets even at the entrance for the side lines.Seats at the at the stadium at finish lines have to reserved.check out the timings
here
.
In US you can watch the race in Speed channel. All the 3 days ,17(practice),18(qualifying) and 19th (race) will be telecasted
live
Know the Jnanpith
I was wondering about the JK site right.Well P sivakumar himself has given the link to the JK site. Check it out
here
If you still havn't stumbled upon this great writer.Please do so.For all the people who are experimenting with short stories in there blogs.He is a must.Better to download the tamil font and read in tamil.For others there is english version available(click the english translations link at the top).When reading remember this was written on a different time period, when people's morality was different.But in many cases what is told in the story still holds good.
Thursday, June 16, 2005
Hazaaron Khwaishein Aisi(Thousand Desires such as this) -part2
I still dont understand this pic.Geetha character never uses the gun in the movie.why in the poster??
Read part 1
here
HKA is the Lal salaam of sudhir mishra to a generation that grew up in an era where india's destiny could have been changed. A generation that dreamed to change the world, they fought with their parents, left what they had good education,money etc and went to remote villages to fight for an ideology.Sudhir mishra tells the story about that generation and there thousand desires to a new generation, which is is ideologically empty and enjoying the benifits of the sacrifices made by the older generation without even thinking about them.But sudhir is not taking blatant sides in the movie, he does show his displeasure towards indira gandhi and the janatha party,but he is not rooting for the romantic idea of armed resistance.Things are told in a subtle way.Unlike Govind nihlani's "Hazar chaurasi ki Maa" which presents the idea raw, sudhir presents it wraped in a beautiful love story.
The movie starts with the dream of pandit nehru.His independence speech "Tryst with destiny".
"At the stroke of the midnight hour, when the world sleeps, India will awake to life and freedom..."
As soon as the speech ends.Sudhir mishra brings you down from that lofty dream of nehru by quoting that
"Nehru was holographically wrong. Infact the time at New York was 2.30 in the afternoon"
That was a dream and a reality.The dream speech of nehru is again brought down.This time through images of a mob violence.The scene starts with the banner of indira gandhi and the violence happening right under the banner.The dream of the father and the reality during his daughter's regime.
The movie goes on to explore the unattained dream of nehru through the lives of 3 college friends.Siddarth Tayebji(Kay Kay Menon),Vikram Malhotra(Shiny Ahuja) & Geetha Rao(Chitrangada Singh).Siddarth, son of an ex judge desires to change the political system through armed resistance, vikram hailing from a middle class family wants to make it big in terms of money and power, however he can.Geetha is in love with siddharth and wants to be with him. But for siddtharth his first love is his ideology.
After college they all move in different directions.When they meet again there life had changed.The movie from then on brilliantly weaves the political situation of that time period with the story.To a certain extent all the 3 characters attain what they want.But a twist in the tale, turns theirs lifes topsy turvy.What happened to their desires is what the movie is about.At the end of the movie the fate of the generation represented by the three people are different,their desires changed.one escapes reality,one becomes totally powerless and one carries the hope.
The movie was great.But i felt something was missing in the movie.I didn't feel good, or i didn't feel overwhelmed with emotions at the end of the movie.But i felt that what happened to the characters where wrong.I felt as if only 96% of the movie was there and another 4% of the movie was missing.What was it, the lovers walking into the sunset??.The hero killing the bad peoples and going to jail??.Hero dying??.I was confused and wanting an answer.
Then i realized that this is what sudhir mishra wanted to do.By making us involve in the 3 peoples desire and leaving us in the middle,he forces us to feel for their desires.The desires are left to you to be mentally fulfilled.With, kind of an open ended climax, sudhir mishra has successfully made everyone to question themselves on what is right and what is wrong.How things went wrong in the life of those three people(that lost generation) and the political system of india?.what is everyones stance now and how could those desires be fulfilled?.I think sudhir mishra's masters in pshycology must have helped him a lot in constructing such a story.
Another good thing about the movie is, nothing is in black and white.You cannot pin point one person as good and other person as bad.The characters are not plain, they are complex.They all show greatness & weeknesses.Like arun, geetha's ex husband who after hearing about geetha, releases her from jail, but he says NO to releasing sids.vikram rushes to bojpur to save sids, but when he himself is in the hospital he hates and shouts at sid.
Indira
Similarly the movie does not manipulate your emotions or it does not explicitly say things.It just suggests things in a very subtle way.It is emergency, sterlization camps are taking place, police brutality is shown and in the next scene Sid's father talks with a politician about getting sids relesed from the jail.Indira visits that politicians house and there are chants "How should a nation's leader be, should be like indira gandhi".
A Sanjay gandhi look alike
Among all the corrupt characters there are only 2 peoples who stick to there ideologies during those turbulent times.One is sidtharth(to a large extent) and the other is vikram's father, both representing the different ideologies of charu mazumdhar and JP.The movie depicts the false nature of the change that was about to be brought by the Janata party,by showing randhir yadav joining the Janatha party and his political talks.When the political chamelon's like randhir yadav are scared to death because of emergency, vikram visits his father in jail and he is proud to see his father, a tireless soldier of gandhi spinning cotton.
The performance by everyone who acted in the movie was good.Every small character becomes memorable.vikram is the most colorful character in the movie.He portaits the middle class mentality of trying to make it big.He depicts the bourgeois youth who doesn't care about the society and is focussed only on making money.His only weekness is geetha.Even though geetha fails to see his love, he forgives and accepts her everytime.
Vikram
He has this small slimer of hope when geetha leaves her husband arun.But when he goes to her apartment with a wine and she says that she is going to the village to be with sids.He accepts his defeat and changes his decision in a minute.He takes the tag out of the wine and starts dancing and tells that he is getting married to someone else.
Geetha
Kay kay(this movie is supposedly his first but it got released later) has also given a good performance.chitragandha singh fits the role of geetha beautifully.She is the less developed character of the three.At the end you are left with a confusion whether she loved sidtharth or the romantic idea that he was carrying.
I liked the way the letters were used in the movie.The letters had perfect wordings, summing up everything beautifully.You come to know about the characters first by two letters to geetha, one by sid and other by vikram.siddharth's talks about his intrests in naxal movements and nothing personal.on the other hand vikram starts with the line "first thing first, i love you" and tells about the riot in his home town meerut and that ONLY 38 people where killed in the riots and gives a funny account of two people killed by lions in the riot and how he wished his gandhian father stoped worring about the communal riots and concentrated more on generating money for the family.You get the gist of the characters from the letters and what they want.sidharth writes 3 letters he comes and goes out of the movie through a letter and in between he gives an account of his experiences in bhojpur, bihar through letters.sidharth first letter is brimming with dreamy youthfulness("we have to change the world and change it fundamentally").second letter is the reality on the grounds in the village in bihar bhojpur("Bhojpur and delhi are not only seperated by a 1000 miles but also by 5000 years").He beautifully bids adieu in the third letter by saying "you have to get away from your first love to be completely free",the third letter is the death of the dreams.pretty much the summary of any dreamers big unacheived dream.
passionate Big dream -> face reality -> disillusioned, compromise,accept defeat or rarely succeed.
Music by shantanu moitrai is good.You find music only where it is needed.Man yeh bawra was awsomee.Hearing 'He sajni' i had to recheck whether it was done my "
Indian ocean
".
Hats off to sudhir mishra for not compromising with the story and for giving such a good movie.For a second imagine what and all could have been done with this movie.It could have easily been made into a big commercial movie.Imagine maniratnam making this movie.It has 3 college students,love & a political backdrop.
Let's welcome another quality movie maker that is sudhir mishra.Iam hoping to see more great works from him.
Links
A good review of Hazaaron here
madrid film festival
official web site
Wednesday, June 15, 2005
Hazaaron Khwaishein Aisi(Thousand Desires such as this) - part1
check out my previous
post
on this movie.
I thought of writing a review about Haazaron khwaheishein aisi.But this is a wonderful movie which like heyram weaves the story with the political situations of a different time period and the more you look at the details the more information you get.i then felt that i have to write something about that time period and other backgrounds of the movie.That's why it took so much time to write about the movie.
The decade that the movie is talking about is an important year in the political history of india.Great things happened during that time period.For all those people who were fed up with the socialist regime of congress there was two oppossing ideologies, the armed resistance of Naxalbhari and the peaceful change by JP(
Jai Prakash Narayan
) 'Total Revolution' movement.And off course the emergency the biggest blotch on india's democratic record.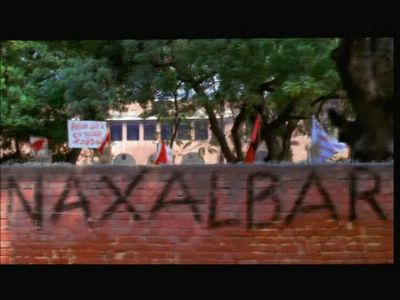 sidtharth's group walking near a wall with the "Naxalbhari - Lal salam" graffitti.
The movie starts with sidharth's letter to geetha.
Dear Geetha,
Calcutta was awe inspiring. My beliefs totally strengthen. We have to change the world, and change it fundamentally. You know i always knew the fact, but when i met some of the mothers and widows of thousands of students who have sacrificed thir lives during the naxalite movement, i felt completely humbled. They were the best and brightest of bengal.
Yes they were the best and brightest of bengal.Lot of students participated in the naxal activities during that time.Some left there houses and moved to villages to carry on the struggle.The violence even spread to the cities and calcutta became the center of urban violence.Read about the experience of one student
here
.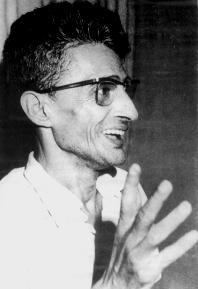 charu mazumdhar
you can listen to the people in sidharth's house mentioning about the naxal movements in calcutta and charu mazumdhar. When there talk goes to villages. They mention that "
charu babu
" has told that alongside trade unions and party workers, the farmers should also be armed. In 1967 the event of Naxalbhari rocked the country. The naxabari violence was put down but naxalism was born, till today the idea that charu mazumdhar sowed is still there.
sidtharth's protest poster similar to that of charu mazumdhar.
On the other hand JP who was a gandhi and vino bhave disciple was trying to bring a change by peaceful means.
Lok nayak Jayaprakash narayan
In June 1971, Sarvodaya workers in Muzaffarpur, Bihar, received a letter threatening to kill them. The area was continuously threatened by Naxalites, which was made up of young men. Jayaprakash walked into the heart of Naxal territory armed only with love and sympathy. He knew that the cause of the violence was that the youth were frustrated because of poverty and unemployment. He lived in Musahari block for many months and experimented to alleviate the problems of the Naxals.more
He later launched the anti corruption movement against Indira gandhi which eventually lead to the regime change at the center.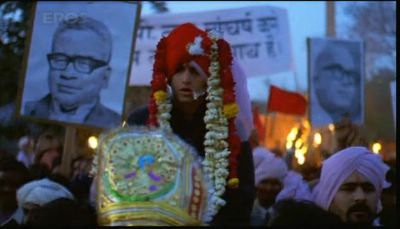 vikram's wedding procesion crosses a group carying placards of JP
What exactly is this Naxalite movement and what is its ideology?



The Naxalite ideology is broadly based on the late Comrade Charu Majumdar's historic Eight Documents and creative application of Marxism-Leninism-Mao Tsetung thought to Indian conditions. The documents are historic as they initiated a sharp departure from parliamentary democracy and put forward revolutionary politics to win justice and end oppression.

The Naxalbari uprising of March 1967 saw the implementation of Charu Majumdar's vision of revolution. The armed peasants' struggle began in Naxalbari in West Bengal on March 2, 1967 when a tribal youth named Wimal Kesan, who had a judicial order, went to plough his land. Local landlords attacked him through their goons. This sparked wide-scale violence by tribals who started capturing back their lands. In the 72 days of Charu Majumdar-backed tribal violence and retaliatory action by the state, the incident echoed throughout the country and Naxalism was born.

The ultra-leftist Naxalite ideology took concrete shape in a May 1968 meeting of All India Coordination Committee of Communist Revolutionaries (AICCCR) which represented revolutionaries from seven states of Tamil Nadu, Kerala, UP, Bihar, Karnataka, Orissa and West Bengal. In 1969, a Communist Party (Marxist-Leninist) was formed under the leadership of Charu Majumdar. It argued that democracy in India was a sham and decided to base Indian revolution on protracted guerrilla warfare on the lines of Chinese model. Who was this Comrade Charu Majumdar and what were his eight documents?

Comrade Charu Majumdar's was born in a progressive landlord family in Siliguri in 1918. He not only dedicated his entire life to peasants' cause but also authored the historic 1968 Naxalbari uprising, the ideology which guides the Naxalites even today. Dropping out of college in 1937-38 he joined Congress and tried to organise bidi workers. He later crossed over to CPI to work in its peasant front and won respect of the poor of Jalpaiguri. Soon an arrest-warrant forced him to go underground for the first time as a Left activist. Although CPI was banned at the outbreak of World War II, he continued CPI activities among peasants and was made a member of CPI Jalpaiguri district committee in 1942.The promotion emboldened him to organise a 'seizure of crops' campaign in Jalpaiguri during the Great Famine of 1943, more or less successfully. In 1946, he joined Tebhaga movement and embarked on a proletariat militant struggle in North Bengal. The stir shaped his vision of a revolutionary struggle. Later he worked among tea garden workers in Darjeeling.He was again jailed during the 1962 Indo-China war as part of curbs on all Left activities in India.

Charu Majumdar's was in bad health during the 1964-65 period and was advised rest. But he devoted his time, even in jail, to study and write about Mao's thoughts. The exercise shaped his vision and ideas of a mass struggle, which were recorded in his writing and speeches of 1965-67. These were later called 'Historic Eight Documents' and subsequently formed the basis of Naxalism. On May 25, 1967, the CM-led "rebels" launched the historic peasant uprising at Naxalbari in Darjeeling district of West Bengal. It was "brutally" suppressed by the state government but the ideology of "Naxalism" not only survived but also spread. With the upsurge of Naxalism, comrades from Tamil Nadu, Kerala, UP, Bihar, Karnataka, Orissa and West Bengal set up All India Coordination Committee of Revolutionaries (AICCR) in CPI (M) on Nov 12-13, 1967. It was renamed as All India Coordination Committee of Communist Revolutionaries, which launched CPI (ML) on April 2, 1969 with Comrade Charu Majumdar as its General Secretary.

A fierce crackdown by the authorities on ultra-Leftist movement in India's West Bengal and Andhra Pradesh states, (which climaxed during and after 1971 Bangladesh war) saw the killings of many key ultra-Leftist leaders and ailing Comrade Charu Majumdar had to go underground. By 1972 he was India's most wanted man. Charu Majumdar was arrested from a Calcutta hideout on July 16, 1972 and died twelve days later, on July 28, 1972, in police custody in the Lal Bazar lock-up infamous for its torture chambers where he was tortured while being held incommunicado.

His 'brain-child' Naxalism -- the ultra-leftist manifestation of age-old peasant struggle in India -- did not die after Comrade Charu Majumdar's judicial murder but the saga of terror and violence, by the land-less oppressed against the oppressor, that it entails has continued over the decades in different parts of India despite severe official crackdown on it by a police/landlord/Bania nexus.The movement continues to grow, in both its political and violent forms, in backward and tribal areas of Madhya Pradesh, Andhra Pradesh, Bihar, Jharkhand, Maharashtra, Orissa and some parts of Tamil Nadu.

Of the many Maoist organisations in India, the People's War and MCC are at present engaged in armed struggle against "the ruling classes and oppressive state forces" in AP, Bihar and adjoining areas.
Lot of youths were attracted by charu mazumdhar's idea.
In Punjab, Bihar, UP, Tamilnadu, Kerala and even amongst the Campuses of Delhi and Bombay thousands of youth were attracted to Maoism and the politics of Naxalbari. Naxalbari symbolised to this youth a new future of justice, truth, equality, humanity and a self-respect for the downtrodden. Fired with this missionary-like zeal they set out to exterminate the perpetrators of injustice, ....... to execute the executioners. They sought to create a paradise on earth. They shared the on dreams of their leader, affectionately known as CM(charu mazumdar), to create a bright future where no person shall go hungry; where no one shall oppress another, where there shall be no discrimination based on caste, religion or sex; where a new socialist human being will be born in whom greed, selfishness, ego, competitiveness will be replaced by selflessness, modesty and cooperation, and where a concern for others will take precedence over concern for oneself. And it is these youth who, together with the more experienced leaders, marched forth to turn their dreams into reality, by building Naxalbari-type struggles in many parts of the country.more
That is a typical communist propoganda stuff.But still there is lot of truth in it.
If you are from south you cannot feel the student feelings told in the movie.When i went to the JNU(Jawaharlal Nehru University) campus for the first time 7/8 yrs ago.I was shocked, there were posters of protest meetings about 2 dalits killed in bihar.Well my reaction at that time was "what are they gonna acheive by protesting here".But the thing is that,this is the place where the future politicians of india are shaped.So unlike the south colleges, the college life in some college/universities in delhi are different.
charu mazumdhar documents
Read the important events in Naxalbari history
here
.
Very few movies in india has talked about the naxal movements.
1)Tango charlie -> ajay devegan's flash back talks about this bengali landlord that he protects.The land lords house is attacked by the naxals and they do what was known as "people court" .where justice was given by the naxals.
2)hazar chaurasi ki maa -> This is the movie that my rental guy mistook as hazaroon khwaheishen aisi.Govind nihalani is someone who has taken many movies were naxal or armed resistence by the down trodden is mentioned.This particular movie should have definitely impacted sudhir mishra.This movie talks about a group of bright students who take up armed resistance and a mother's view of it.The movie is set in the 1970-72 during the naxal movement in calcutta.It's a wonderful movie will write about it later.
3)Lal salam - havn't seen this movie.but heard one hard hitting movie about naxals.