Monday, June 06, 2005
Kamala Ki Maut
Basu chatterji's kamal ki mauth is yet another great movie from him. This is one of the very few movies that talks about the stupidity of young people committing suicides. It is not a commercial movie, not even his usual middle of the path movie's with lots of comedy. But this movie joins the club of the very few indian movies with a different narration style. A beautifully narrated movie, I will definitely recommend it to quality movie lovers .If you intend to see it don't read the post. spoilers ahead.



One of my childhood friend committed suicide for personal reasons .I always used to wonder what kind of a movie would have made him not take such a decision?. I used to imagine a story on the lines of sixth sense. We all friends meet (15,20 yrs after his death) and he is also there in the meeting, we all tell old stories have a good time at the party, he only realises in the end that he is dead and he is no more. He sees what he has missed, we all in good position, family, kids and he has missed it all. He has only got his old parents to remember and cry about him. Kamala ki maut sends a message on those lines with a different narration style. And basu chatterji makes everyone feel the stupidity of committing suicide at the end of the movie.

********
The movie starts with Kamala crying. kamala's mother leaves her alone in the house and goes out. kamala comes to her 5th floor balcony and is thinking something. Geetha(Roopa ganguly,remember her? the panchali of mahabharath serial) comes and talks to her. she asks when she is getting married and whether her lover bhaskhar has agreed for the marriage etc and she leaves .kamala after tearing some letters, jumps to death from the 5th floor.



police arrives at the scene and there is a big crowd to see kamala's body. Roopa ganguly and her sister also watch her body. sudhakar(pankaj kapoor) an old man, sees the dead body and asks the crowd what happened?. When he goes to his house in the flats, his family members, wife and 2 daughters arrive and his wife starts talking about kamala's suicide. She starts telling all the gossips she heard about kamala to the uninterested sudhakar. she says that kamala was in love with a guy and that she was pregnant.

It is night and everybody is getting ready to sleep .roopa gangualy starts thinking about herself, her relationship with ajit(irfan khan) and what will the society think if she was pregnant like kamala. she thinks about her occasional love sessions at irfan's room and fears that she might be pregnant. she imagines irfan dumping her and she committing suicide.

Charu, Roopa's sister who is annoyed by her sisters questions on how the society will think etc , later starts thinking about her lover deepak(ashutosh) and there love. It is a budding love which has just started. But she imagines herself in kamala's position and committing suicide. Roopa's mother who is sleeping on the other room wakes up due to the sounds made by geetha in the next room and she then starts thinking about her own past. How as a teenager she fell in love with her tutor and almost drowned herself trying to commit suicide. She thinks to herself that it is good that her husband does not know anything about it.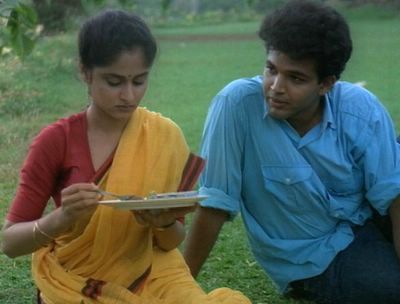 Sudhakhar now starts thinking about his past. How he as a young man had relationship with Anju(supriya pathak). supriya becomes pregnant and sudhkhar takes her to the doctor for abortion, for the second time. supriya insists on a marriage after the abortion and threatens him that she will commit suicide if he does not agree. He scilently leaves the town. He remembers about his relationships with other 2 women, one his own friend's wife. He also remembers his chance meeting with supriya pathak 10 yrs after the abortion incident. sudhakhar who is traveling patna or some other place with his wife and two little girls meets supriya pathak with her husband and child on the foot steps of a temple .They exchange pleasantries and they go there own way. Sudhkhar thinks to himself that it is good that his wife does not know anything about him.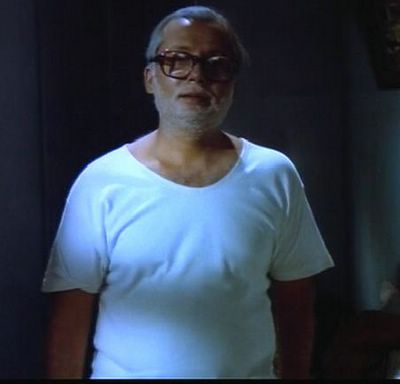 sudhakhar's wife wakes up in the night and sees him not sleeping and thinking about something. she ask him what he is thinking. He talks to his wife about the incident where they met supriya pathak on a trip to patna. He tells her that like kamala she also wanted to commit suicide long before.But she didnt and now she is a wife , a mother a daughter law and she is happy. She is going to be a grand mother and she will die happily. kamala could have also not done, what she did and could have somehow managed to keep it a secret and get on with life. For that the wife says "Yes some things are better kept secret" .The movie ends.

At the end of the movie we feel sorry for kamala, we feel that she is in no way lower than the same people who were gossiping about her. whether it is Sudhkar's wife who is a respectable mother or the pitiable old man sudhkhar, everybody have there past which they were able to hide and lead a very happy life. The foolishness of kamala's decision comes down on us.Not only did she loose her life,people know about her secreat also.I found it better than vanamey yellai on the fact that it kind of kept the theme to one person and makes everyone realise the foolishness of kamala. But it does not carry the strong message driven/ hopeful climax of vanamey yellai.

When i was watching the movie i was little irked by the pankaj kapoor flashback, as it was just about his sexual escapades.I was wondering why basu chatterji is stressing it for him. I felt it was kind of adulterating a clean story so far. Later when i was thinking about it, i realized that it is how a man like sudhkhar will think.The different stories represt different types of love , an infatuation, a love at its initial stage, a complete one and a physical one. The flash back of roopa ganguly it is told more on the fear side of her, she does not think about herself with irfan in bed, she just thinks about how she met him and how there relation developed. same case for her sister, who just has thoughts about there sweet romance , which shows the belief and hope these women have on there men. When it came to the wife it was more of an infatuation, so it was childish and the sex was out of question. With pankaj kapoor, he sees his whole experience as a serious of sexual acts and how he was smart enough to over come the problems he faced.

----------------
Great thing about the movie is it's narration style. Eventhough the movie is about kamala and her decision, you are not told much about her. you see her only for a few mins in the movie.The movie like "Citizen Kane" narration starts with the death of her and increases our curiosity to know more about her. But her death creates a moral problem to all of the members of sudhakhar's family and then goes into flashbacks which are a small story in themselves, so there are an array of characters and many small stories and with a message in the end the director leaves it to the audience to tie them all and think about it.

There are some other interesting things about the movie it has a young ashutosh gowarikar and irfan khan in it. Irfan khan comes under the "introducing" category in the movie.

The story is by swaraj bandopadyay, screenplay, dialouges & direction by basu chatterjee.I liked the background scores a lot and rewinded the movie to see who was the music director. It was salil chaudhary, no wonder the BGM was good.

The movie was released in 1989.won the 36th filmfare best screenplay award for basu chaterjji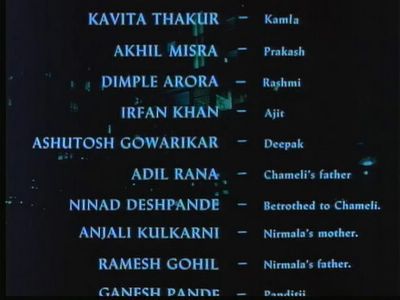 Comments:
I thank you so much Sen for coming up with all these movies which the mainstream cinema pushes aside. You are doing a great job and I can never thank you enough for this.
Wonder when I'll find the time to watch them, but whenever I do, I'll look up your blog to take recommendations and thank you from the depths of my heart.
-- Akshaya
Post a Comment
<< Home