Monday, April 18, 2005
Mumbai Express - Kamal get's it right
Kamal get's it right this time. He pretty much took care of all of my peeves against him.Iam not sure whether it is the story, or whether somebody has been guiding kamal or atlast kamal has learnt his lessons. Kamal is on dot with mumbai Xpress. Lot of his usual things were not present in the movie.
#)No Information overload
#)No Exhibitionism
#)Equal opportunity to all the characters
#)Simple narration style
#)No sexual antics
#)Using the environmental objects in the story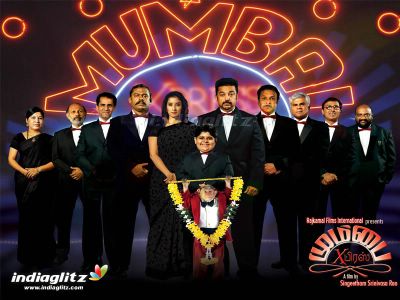 The story is a kidnap gone astray. When the kidnap plan is revealed at the start and when you see pasupathy a.k.a Mr.A hanging in the air from the crane. you are assured that this is a plan that is bound to be doomed .The story moves at break neck speed in the first half, it kind of slows down in the middle and then again goes back on track.
Kamal has built the movie on a structure that was used by many famous english comedies. Well how much he has got inspired in this movie is to be seen. But he has left his usual way of indulging and has given great respect to the integrity of the story. Hasn't gone out of the story for anything. He has struck to the story line, used minimal characters, has given equal opportunity to everybody, has cleverly used the environment and has kept the cost down in the movie. For me this is how a movie has to be made.
The first half of the movie was hilarious, non stop laugh riot. If i have to rank the actors in the movie it would be
1.Pasupathy
2.Nasser
3.Kamal
Pasupathy has done a great job. This is a movie more on the lines of michael madana KR. Iam sure i missed a lot of jokes as things where happening so fast, repeated viewing would bring out more jokes.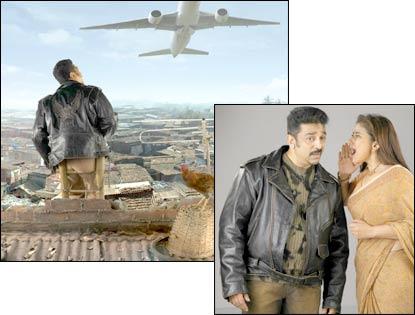 via
rediff
There were a few flaws in the movie. Kamal is still making movie for people assuming that everybody knows what he knows. Using another language like telugu is great, but not everybody knows the language and the word comedies get lost because of that. when i was laughing out loud on some dialogues my friends were looking around.
Similarly the ending, he could have left the movie with the avinashi character escaping from the police. un necessarily he comes back to say that typical mumbai people that the characters are, they patch up and "All's Well That Ends Well"(a typical english movie style ending).Again somebody has to know the significance of that line and one should be aware of the north indian way of business where money comes above any emotions. When a software engineer sitting next to me cannot understand the ending, how can a farmer in gopichettipalayam would be able to understand it?.Also i feel kamal should stop doing sentimental scenes.He cannot even act as a sentimental person anymore.
oh did i say the digital filming sucked. I wished i could right click on the screen and increase the resolution of the screen. And illayaraaja was wasted. For 80% of the movie there was no background music and the songs that were in the sound track where used as passing songs in the background. Well i was angry with kamal for not using some of the songs in virumandi, he kind of does the same in this movie also. I dont know why he is misusing Illayaraaja(see s
riks
comments on this).
I was glad about few thing, one is that the movie version does not have vande mataram song. Instead of stretching and shrinking the vande mataram song they have done it with some other prayer song.Secondly there was no direct jokes on the hero's handicap "The deafness".
other than those flaws i thoroughly enjoyed the movie. I hope kamal will keep making movie in this way. Let's see whether the vethal is climbing back to the tree with his next movie.
Comments:

oh did i say the digital filming sucked. illayaraaja was wasted.
For 80% of the movie there was no background music
the songs that were in the sound track where used as passing songs in the background.

Senthil, I think you need to get out this mass opinions.
Do you think this script warrented songs? or Do you think it needs a mouna ragangal level emotional score?
I feel, when it comes to music be it Raja or Rahman or camera be it PC or anyone,
it should be well contained within the screen play of the movie. It should not super seed the movie.
for example raja plays a 10 part score in ramana, which is a over kill in my view.
There is no insult to Raja, there is no hard core rule that if raja is used we need to user 100 strings to cover a chase scene.
I feel kamal has used every ingredient at right levels. There is no over dose of anyone or over domination of anyone. this is the main reason many will like this movie.
Post a Comment
<< Home