Tuesday, May 31, 2005
Unsung Hero Mbaye Diagne
Last year i watched a very nice documentary called "
Ghost's of Rwanda
" in PBS.They telecasted it to commemorate the 10 anniversary of the genocide.It had a wonderful piece about a man named Mbaye Diagne.I was impressed by
his story
.I felt sad that the world media has ignored this guy, who has single handedly saved Thousands of lives.It would have been a very different story if he would have been an american or european.Today is the death anniversary of Capt. Mbaye Diagne.
Capt. Mbaye Diagne was a young Senegalese army officer who served as an unarmed U.N. military observer in Rwanda.During the genocide the world was just watching as all the big powers pulled back their forces from rwanda.The U.N forces were ordered not to intervene in the conflict. In what was left of the UN forces many were from african nations and they didn't even have enough ammuniations. So the U.N forces were just watching the genocide happening.
But the unarmed Captain Diagne evidently resolved to disobey the U.N.'s standing orders of not to intervene. Rather than being in the secured UN buildings, He plunged into the horror and began risking his own life to save others.He rescued the children of the moderate Prime Minster Agathe Uwilingiyimana, after 25 well-armed Belgian and Ghanaian U.N. peacekeepers surrendered their weapons to Rwandan troops. The Rwandan troops killed Madame Agathe (and, later, ten Belgian peacekeepers), while the unarmed Capt. Mbaye -- acting on his own initiative -- hid the Prime Minister's children in a closet.
In the days and weeks that followed, Capt. Mbaye became a legend among U.N. forces in Kigali. He continued his solo rescue missions, and had an uncanny ability to charm his way past checkpoints full of killers. On one occasion he found a group of 25 Tutsis hiding in a house in Nyamirambo, a Kigali neighborhood that was particularly dangerous. Capt. Mbaye ferried the Tutsis to the U.N. headquarters in groups of five -- on each trip passing through 23 militia checkpoints with a Jeep-load of Tutsis. Somehow, he convinced the killers to let these Tutsis live.
On May 31st, Capt. Mbaye was driving alone back to U.N. headquarters in Kigali when a random mortar shell, fired by the Rwandan Patriotic Front towards an extremist checkpoint, mistakenly landed next to his Jeep. He was killed instantly.
Capt. Mbaye, a devout Muslim, was one of nine children from a poor family on the outskirts of Dakar, Senegal's capital. He was the first in his family to go to college. After graduating from the University of Dakar, he joined the army and worked his way up through the ranks. After his death, he was buried in Senegal with full military honors. He was survived by a wife and two young children.
more
.
Mbaye always worked alone, he would bring a group of peoples from somewhere to safe hiding places and the next day they would be gone.Nobody knew from where he bought them and where he took them.To this day nobody knows how many men, women and children this insubordinate martyr managed to conceal in hiding places throughout Kigali and the surrounding countryside. Nor does anyone know the number of people he was able to smuggle, sweet-talk, bribe and backslap past checkpoints manned by murderers . Thousands possibly.
Excerpt from interview of Gregory Alex, head of the U.N. humanitarian assistance team in Rwanda.
How would he get through?


That's just the way he was," said "People laughed. Even they [the genocidal militiamen] have, or had, some attachment to a real world where there's real laughter. Even in all this gore, hatred; as long as you can have that brief glimpse of his smile, or laugh about something that's good, you'll grab onto it. And with Mbaye I think that's what everybody did. At all those checkpoints, they all knew him.

Mark Doyle(BBC World Service)
How was he able to get through these checkpoints and rescue people?



I remember once I was very grateful I was in Mbaye's car. We were going to see an orphanage. We got stopped by the government militia, and the militia man leaned through the window with one of these Chinese stick grenades which look a bit like sink plungers, but they're not sink plungers -- they explode and kill you if they go off. And he started waving it under my nose, because he thought I was Belgian -- because at the time the Belgians were perceived by the government to be pro-rebel -- and so this militia man thought because I'm white and driving around -- and most of the white people who lived in Kigali at the time, the majority were Belgian -- he thought I was Belgian. So he said to Mbaye, "Who's this guy? Is he Belgian?" and if Mbaye had said the wrong thing at that point, then I've no doubt that we'd have all been killed.

And what he did was he just joked. He said, "No, no -- I'm the Belgian. I'm the Belgian here, look -- black Belgian." And he broke the tension of the moment, and once the tension of the moment had been broken, he said, "No, no -- in fact, look, this guy is the BBC. Here's his badge. He's a BBC journalist, he's British, and he's got nothing to do with Belgian." And this kind of put the military man off guard a bit and he no longer wanted to kill us. And I just wonder[ed] if a Canadian soldier or a French soldier would have been able to do that, to joke with this guy and potentially save my life and the life of all the other people around who would have been killed by this stick grenade.


Read more about
Captain Diagne
Monday, May 30, 2005
Tamil movie DVD's
One good thing about the DVD's is that, most of them have subtitles. Because of these now many good movies which where not able to go beyond the regional language audiences, can be appreciated by everyone. I was delighted to see the whole shyam benegel collection in DVD's. It is just not shyam benegal but many of the good movies of the hindi parallel cinema. But it is not the same case in tamil.
Tamil film industry has its share of parallel movies and some unique movies.I still remember seeing this movie called "
Oru indhiya kanavu
" , it was one of the kind movie which dealt with problems of the adhivasi's. But all i could remember now is suhashini singing a song near a stream and bunch of other scenes depicting how the adhivai's are exploited. I wish i could see it again.If at all if there is a chance of me seeing it, it would be in doordarshan, the chances of those kind of movies being shown in the cable tv is less. Now that the days of doordarshan are over, the chances of seeing the movie is remote.
Seeing all these hindi parallel movies in DVD,i wish some one will release the tamil parallel movies DVD's also.But will someone do it. Will there be good response for these DVD's so that more will be released?. Will i ever get to see Oru Indhiya Kanavu, Eni oru sudhanthiram,Thanneer thanneer, John Abraham's agraharathil kazhuthai,Rudraiya's Aval appadithan, B.Lennin's short films, balumahendhra's Veedu and other movies in DVD??. Will these movies cross the regional boundaries and be appreciated by everyone??.
Friday, May 27, 2005
Pyaasa
Yesterday, saw
Guru Dutt's
Pyaasa to see what was great about the movie that was listed in the times top 100.To take a movie like that in 1957 is really great.But watching it now, i felt it boring.The movie turned intresting at the end , till then it was just depressing.
Pyaasa((Thirsty) is based on the novel Srikanta by Sarat Chandra Chattopadhya.The movie is the story of a poet Vijay (Guru Dutt) who's talents are not recognized by the world.His family and the society dismisses him as vagabond.He meets a prostitute Gulabo (Waheeda Rehman) who likes his poems,her like for his poems later turns into a love for him.He also meets his old love Meena (Mala Sinha) who dumped him for a rich publisher Ghosh (Rehman).Vijay gives his coat to a begger who dies in a train accident, because of the coat people think it is vijay who is dead.Gulabo gets vijays poems printed and he becomes famous overnight.
All the people who disowned him, now contact the publishing company to get their share of profits.Hospitalized vijay comes to know that his books got published.But nobody beleives that he is vijay and he is put into a mental asylum.His relatives and friends refuse to identify him as vijay.later he escapes the asylum and goes public once again all the peoples who disowned him come to take part in his glory.But vijay tells in the public meeting that he is not vijay.Later he goes to gulabo and walks into sunset with her.
There is a parallel to the movie and guru dutt's personal life.He committed suicide 7 yrs after the movie.He was 41 at that time and supposedly people recognized his genuisness only after his death.
Thursday, May 26, 2005
GUDDI
Hrishikesh mukerjee's
guddi is an introspection of the cinema world itself.It is letting the people know the truths of the tinsel world. Kusum aka Guddi(Jaya bhaduri) is a big fan of dharmendra and is so crazy about him that she starts loving him and decides not to marry her sister in-laws brother, navin.guddi goes to bombay with her sister in law to meet her mamaji(utpal dutt).Utpal dutt comes to know about guddi's devotion to dharmendra. He seeks the help of "dharmendra" the actor and makes her realize that A star is not the star that she sees on the screen and that the real hero is navin who loves her.Good story and screenplay makes the movie intresting even after all these years.
Well lot of people know about how a cinema is made now, at least in the cities. But not in 1971 when there was no TV's and other source of information for the peoples. Too take a movie on the movies to educate the people and at the same time give a good story is a commendable thing. And it all goes to Hrishikesh mukerjee.
There are other great things about the movie.It introduced "jaya bhadhuri" to the cinema world. Amitabh was supposed to play the role of her lover, but hrishikesh wanted someone new and by that time amitabh has become little famous. Gulzar co wrote the movie with hrishikesh.
I knew GUDDI from a long time. just because it was the movie that had the song papihara.The music director for the movie was "Vasanth Desai" and he introduced vani jeyaram to the world.She became an overnight sensation with "Bol Re Papihara".The song was an instant hit.
That is young Vaniji with hrishikesh mukerjee and vasanth desai. via
vanijairam.com
The movie has
other songs
like "Hum ko man" & "Hari Bin Kaise Jivoon Re".It also has partial songs like "
Tujhe jeevan ki dor se
" from hrishikesh's older film (Asli Naqli).The song reminded me of an SPB song.I scratched my brain and found out in a few mins that it was "
unnai ethannai murai parthallum
" from Neeya. Looks like shankar ganesh got inspired by the hindi number.
This movie was remade in tamil as "Cinema Paithiyam" in 1975 with jai shankar playing dharmendra , jaichithra playing jaya badhuri and kamal playing the navin's character.
Links
Vasanth Desai
Wednesday, May 25, 2005
Twoooo much
2 comedy news item.
Rajini went to the foothills of nanda devi to meet BABAji in his cave.
via
vikatan
For someone who has renounced everything and gone to rishikesh for peace, seems rajini can't renounce press and camera.Thanxs BABAji for preventing rajini from entering into politics.
News item:
Kamal Hassan prefers national award to Oscar
Excuse me??.Did he say Prefer??.You can prefer only if both of the awards are available to you.The basic assumption for the statement is that he is an Oscar calibre actor as told by his fans and the oscar commitee is begging him to accept an oscar.All i can think of is S.Anand statement in his article,
critics rascal
."Kamal's estimate of his own talents has always been high".
Tuesday, May 24, 2005
My social service
Yesterday i was talking to my friend after a long time.He was having a big problem.He was having lot of free time at work and did not know how to kill time.I was shocked.i asked him,"you don't visit any blogs"?.He said nooo... i grinned and started giving him some pointers and told him to start a blog and all his worries will be solved.Iam a very satisfied person now.I have a glow in my face, i have the satisfaction that comes after pushing someone in a trap.He has swallowed the red pill.... :)

My list of mohanlal movies
My fav's of mohanlal's
#)
vanaprastham
Is an one of the kind movie.Which was well received
internationally
.Mohanlal won the best actor award for vanaprastham in the 47th National Film Awards competing against movies like heyram,sethu and Buddhadev Dasgupta's Uttara.A multilayered movie where mohanlal plays an unhappy kathakali performer and the all powerful arjun as an artist.
#)Bharatham
A beautiful movie,which talks about bondings of two brothers.It won best actor national award for mohanlal, supporting actor for nedumudi venu & best singer for kjj.
#)kireedom
another National award winner it was later reamde in hindi as gardish.
#)T.P.Balagopalan MA
Follows the plight of a middle class man, who tries to make ends meet
#)Spadikam
See the movie and the character "Adu Thoma" will become unforgettable.
#)Devasuram
Lal plays another beautiful character Mangalassery Neelakanthan.
#)Killukkam(comedy)
#)Manichithra thazhu
#)Dasaratham
I was shocked when i saw this movie.keralites dealt with artificial insemination and surrogate mother issues in 1989.Kanden Seethaiyai was kind of inspired from it after a decade.
#)Guru
Again one of the kind movie.A surrealistic movie with awesome music by illayaraaja.
#)Chithram
#)varavelppu
#)His highness abdulla
#)Sanmanassullavarkku Samadhanam
#)Aham
#)chenkol
#)Gandhi Nagar 2nd Street(comedy)
#)Vandanam(comedy)
malaylam verison of stake out.
#)kamaladhalam
#)nadodi kathu(comedy)
#)Ayal Kadha Ezhuthukayanu
#)Boieng Boieng
lal and mukesh do a malyalam version of the english movie boeing boieng
Monday, May 23, 2005
Belated B'day wishes to Mohanlal
Just saw
balaji's
b'day
wishes to mohanlal
. Thought i would say a belated one to the
'phenomenon'
Bharath mohanlal.This three time
national award winner
celebrated his b'day on May 21st.
I remember Mani Ratnam telling me, 'Hereafter, I will never work with a man of whom I am a fan.' I asked why. He said he often forgot to say 'Cut' in Iruvar. Mani said he did not expect him to perform at that level.An excerpt from priyadharshan's interview on mohanlal
He did bit roles in Malayalam and Telugu films to keep the home fires burning and dabbled in dubbing. All those years were not wasted, Vikram told me once. It is appropriate to recall his words now that he has won the National Award, 'If they describe my acting as good, it is only because of the experience I got from those Malayalam films. I had watched all these great actors act and the natural acting that I do now is not even five per cent of what they do in Malayalam films. I want to do good roles in Malayalam cinema too because I love those films. I want to do the kind of strong roles that Mammookka and Mohanlal do there.From vikram's interview
An actor who learnt sanskrit to act in the
sanskrit play karnabaram
.Why would an actor do a stage play??.Why take time from the big budget movies and act in a play which is not gonna get any money?.The answer is his love for acting.When his collegues are trying to get as much media attention to trumphet how great an actor they are, here is an great actor who never bothers to self boast.
rehearsal
A natural actor,who can ease into any kind of roles.He stands amongst the best actor's india has ever produced.Wishing him a belated b'day
Pudhu vasantham
Saw pudhu vasantham the yesterday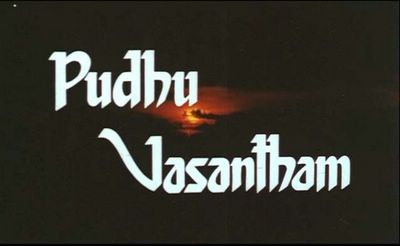 I know that it was vikraman's first film.Came to know that K.S.Ravi kumar was the assistant director for that movie.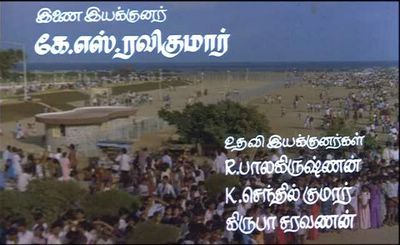 There is a scene before climax where the friends come to see sithara at suresh's house.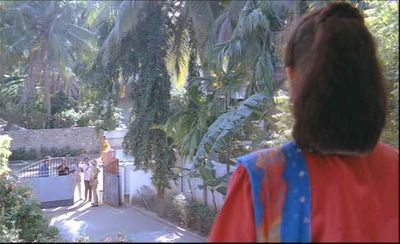 suresh shouts at them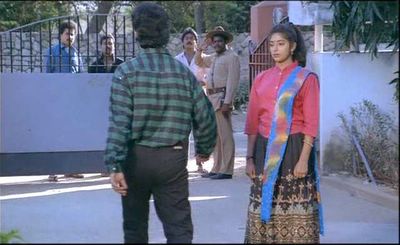 and asks the watchman to throw them out.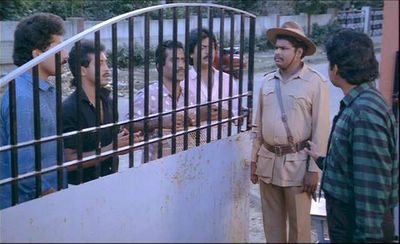 Do you recognize the watchman?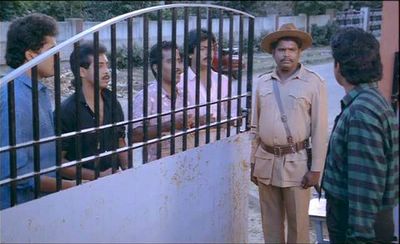 Some people love to stand before the camera :).
Thursday, May 19, 2005
SAM for you
SAM is by
Tak Toyoshima
.Check out more strips at
imdiversity
Wednesday, May 18, 2005
Morning surprises
surprise 1: Woke up very early at 7.30 am itself.
surprise 2: I got free breakfast when i was going out of my apt gate.The apartment guys came to the car and gave me free food(This week is a customer satisfaction week it seems, came to know it only because i was out early today :)).
surprise 3:Todays washington post carried an
article
on how the sporting preferences of the immigrant population is making new demands on the park officials.There was a cricket photograph right on the front page.
surpirse 4:I didn't visit any blog after coming to work for the first 2 hours in the morning :O.
kairee (raw mango)
Kairee is the experience of a ten year old girl(Yogita Deshmukh) with her aunt taani(Shilpa Navalkar).The movie is based on the marathi short story by G.A. Kulkarni.
The is a very positive and sweet movie.But if you have been watching lots of masala movies.It is hard to enjoy the movie. This is a movie that does not manipulate the emotions of the audience with tears and moving music. It just presents things as it is.The backdrop is a small village in rural india, where women have to struggle for everything.
yogita comes to stay with her aunt after her mother's death. She likes her Taani mausi(shilpa Navalkar,she has one of the sweetest smiles i have ever seen).Both of them face problems because of men around them. Taani because of her husband who is having an affair with the maid servent and yogitha cause of the boys in her school. Yogitha is the only girl in her school who is pestered by the boys and her teacher is not that appreciative of her talents. But in midst of all the problems around them. They find there own dreamy world , a world of peacocks and raw mango.
The docile taani, who bears all her husbands behaviors silently, rebels when it comes to yogitha. she fights with her teacher for her and joins her in an another school where the master(Atul kulkarni) is very encouraging to yogitha. When things get out of hand with her and her husband, she makes yogitha leave her house with advices that she should study well and not end up like her.
The movie was produced by Union Health Ministry and directed by Amol Palekar.It won the Best film on social issues award on the 47th National Film Awards.
The movie has so many new faces and one of them is Atul kulkarni. Even though kairee was his first movie. Hey ram got released before it. He does the part of a stuttering school master who encourages yogitha and advices her to realize her dreams.
I stumbled upon Atul Kulkarni
web site
.It has lot of info about this awesome actor.
.
Atul has acted in many
south indian movies
and is busy in some new ventures. He is staring against meera jasmin in a
malaylam movie
.
Atul's hindi filmography
Atul interview in hindu
Tuesday, May 17, 2005
check out
srikanth
is asking why BCCI should not be taxed?.
BCCI has also told that there is no problem with the Coach "Fee" .Chappell's remuneration is speculated around $400k to $500k per year [almost 2 Crores a year]. This is amazing, and here is an organization that nose cries when the government asks to pay tax.more
Mukund's post with
various blogger names
.
Rajesh krishnamurthy's
photo blog
Singer chinmayi's
blog
check out the interviews of
A.R.Rehman Benegal and sachin khedekhar
on Bose.What is meaning of the song Zikhr??.Looks like it has a deeper meaning like Fana in Yuva/ayutha ezhuthu.
Ram kumar yaps that chandhramukhi was
not copied
from anything at it is pvasu's creation.
senthil natarajan's
joke post
HazaaroN KHwahishaiN 'eisee
Iam dying to see this movie that everybody is raving about.
rediff
mid day
glamsham
zero
http://mohitkishore.blogspot.com
http://reve3.blogspot.com/2005/05/age.html
http://myarticulations.blogspot.com/
http://jupieee.blogspot.com/2005/05/hazaaron-khwaishein-aisi-hka.html
http://vibster.blogspot.com/2005/05/finally-watched-hazaaron-khwaishein.html
http://milano-fever.blogspot.com/2005/05/power-of-youth.html
http://venerable-vermin.blogspot
http://jebbit.blogspot.com/2005/04/hazaaron-khwaishein-aisi_28.html
http://zishaan.blogspot.com/2005/04/hazaaron-khwahishen-aisi.html
It was screened last month here in washington dc film festival and as i didn't know about the movie then, i missed it.I thought iam going to see it, when the video rental guy said that he has the dvd and i can take it the next day.I went the next day,he said "sorry i only have Hazar chaurasi ki Maa" and not hazaroon kwahishain aisi.Me "Kis ki Maa"??.
"Hazaroon Kwahishain Aisi, ki har kwahish pe Dam Nikle"
is a gazhal by the famous Mirza Ghalib
Here is the gazhal.
HazaaroN KHwahishaiN 'eisee ke har KHwahish pe dam nikle
bohot nikle mere armaaN lekin fir bhee kam nikle
A thousand desires such as these,that each takes a lifetime (an eternity)
I found many desires and yet they aren't enough
nikalna KHuld se aadam ka sunte aayaiN haiN lekin
bohot be_aabru hokar tere kooche se ham nikle
I have heard of Adam coming from Heaven
Disgraced a lot I came from your street (home)
magar likhwaaye koee usko KHat, to hamse likhawaaye
huee subah aur ghar se kaan par rakhkar qalam nikle
If someone wants to write (her) a letter, let me write it
It is morning and I have started from home with a pen on my ear
mohabbat meiN naheeN hai farq jeene aur marne kaa
usee ko dekh kar jeete haiN jis kaafir pe dam nikle
There is no difference between living and dying in love
I live by the sight of that unfaithful (infidel) taking whose name I die
KHuda ke waaste parda na kaabe se uThaa zaalim
kaheeN 'eisa na ho yaaN bhee wohee kaafir sanam nikle
For God's sake don't remove the curtain from Kaaba tyrant
Lest that unfaithful (infidel) sweetheart appear from there too
kahaaN maiKHaane ka darwaaza 'GHalib' aur kahaaN waaiz
par itana jaante haiN kal wo jaata tha ke ham nikle
Where a door to the tavern 'Ghalib,' and where the preacher
All I know is yesterday he was going (in) when I stepped out
screen
rediff
check out the songs
here
Monday, May 16, 2005
what is happening in bollywood?
Is Bollywood changing?.Even though the uncreative bunch of peoples are re hashing english and south indian movies.Not all directors are thinking about making the same type of love stories with beautiful songs.BLACK was a different movie.There are some more nice movie coming out.Suddenly bollywood looks very colorful and varied.
Historical movies
Shyam Benegal's
Bose The forgotten Hero
Ketan Mehta's
The Rising
Akbar khan's
Taj Mahal
Literary Adaptations
Vidhu Vinod chopra's
Parineeta
is based on Sharat chandra chaterji's novel of the same name
Amol Palekhar's
Paheli
is based on rajasthani writer Vijaydan Detha's folk tale "Duvidha".Wish palekhar choose someone else for the hero role :(.
others
Sudhir Mishra's
Hazaaro Khwaishein Aisi
a movie on pre- and post-Emergency days.check out zero's
review
Mahesh Manjrekar
VIRUDDH
which is supposed to be on the lines of
saaransh
Dibakar Banerjee's
KHOSLA KA GHOSLA
was well received in Cannes.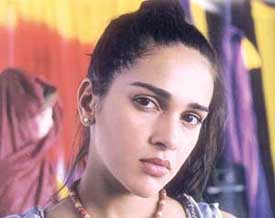 Manish Jha's
Mathrubhoomi
is about a Nation without women.Is getting released in 6 languages including tamil.