Wednesday, April 13, 2005
Padam Onnu: Oru Vilapam( Lesson one: A wail)
Did anybody notice who got the best actress award in 2003 when vikram won the best actor award for pithamagan?.It was meera jasmin, for her role in 'Padam Onnu: Oru Vilapam'.I vaguely remembered her from 'RUN' when i saw this movie. she looked so young in this movie, for half of the movie i thought this was someone else,probably meera jasmin's sister or something. She has given a very god performance in this movie as a teen age muslim girl.Meera jasmin won the best actress award from both the center and state for this movie in 2003.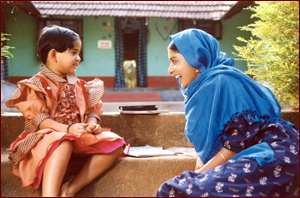 I saw mohanlal's Kilichundan Mampazham couple of week before and the things that i liked about the movie was its
Malappuram
background and music.The muslim culture in that part of kerala was very fascinating. But it was a priyadarshan movie and everything was light hearted and beautiful.I saw this movie after two weeks and it is a complete about turn.This movie portrays how bad there customs and way of life is.
This is a movie with a strong social message.A certain scene comes couple of times in the movie, you overlook it at first, but in the end that same scene gets a very significant meaning and it breaks your heart.The movie leaves you with a feeling of helplessness. Read a detailed review
here
I don't know why many of the indian parallel cinema directors drag the scenes. I guess, it has become a de-facto standard in indian parallel cinema. why do you have to show a guy approaching the house for 10 minutes. It is evident from a few shots that the person is coming to the house. The directors could cut short these sort of scenes to keep the user engaged in a different thing and also save some money. There are a lot of scenes like that in this movie.I think the movie could have easily reduced 15/20 minutes of unnecessary scenes.
T.V.Chandran
the director has given a powerful social movie.The background music is by jhonson.I personally felt the background was pathetic. But seems he bagged the state award that year for his score in this movie.
Aryadan shoukath
son of ex-minister Aryadan Mohammed has produced the film,he has also written the dialouges and story for the movie.It is great to see, people like aryadan shaukat doing a introspection of there own communities.As expected this movies seemed to have drawn some
protest
.It would have gotten a different color if it would have been written by some one else other than shaukath.
A very different movie, not for the regular masala type movie lovers.
The Newspapers said
Meera Jasmine has been conferred this year's 'National Award for the best actress' for her outstanding performance in the film 'Padom Onnu Oru Vilaapam'. She surpassed more than 40 nominees, including the likes of bollywood superstar, Aishwarya Rai. With this, Meera Jasmine becomes one of the youngest actress in the entire nation to ever achieve this milestone.
The National Awards Jury said
Meera Jasmine has outclassed her competition. The jury's was a unanimous verdict and we took little time to arrive at our decision. She was a clear-cut winner among the candidates.
more links
IIFI
Newport Beach FF
Bangladesh Best film
hindu