Monday, July 12, 2004
Govind Nihlani's Ardh Satya (Half Truth)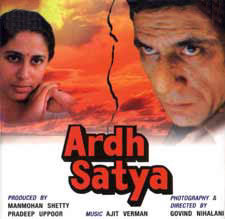 Ardh sathya is a very intense movie.It is definitely one of the top 3 in my all time great indian movies.Om puri's potrayal of sub inspector ananth Walenkar is uncomparable with any acting i have seen so far in india.The intensity with which he has acted is just unbeleivable.
Ananth who is from a typical indian police family (Strict father, subservient, docile mother).Ananth grows up unable to stop his father from beating his mother or making his own choice on higher education. As a sub inspector he is trying to overcome all his inability of yester years by being a strick officer.But he finds it hard to survive in the corrupt world as a straight Shooter. when the politically well connected criminals get away so easily, He feels the same inability that he felt when his father used to beat his mother.He takes it personally as a dent to his male ego.
Nasrudeen shah comes as an once straight forward inspector. Because he was not able to adjust with the corrupt peoples, he ends up losing his job and literally begging on the streets for his livelihood. Nasrudeen shah becomes a symbolic warning for Ananth. Ananth compromises his principles to get himself out of a suspension. He makes himself half true to his self.But realizes it at the end and corrects it in his own way.
Great cast :Om Puri, Smita Patil, Amrish Puri, Naseeruddin Shah, Sadashiv Amrapurkar, Achyut Potdar, Shafi Inamdar
sadashiv amrapurkar is my next pick on the movie.Has played the part of a politician beautifully.Non chalent acting. This was Sadashiv Amrapurkars acting debut and he won the film fare best supporting actor award. Om Puri won a national award for the best actor and the movie won the best hindi film award.It also won the Filmfare awards for Best Film and Story.
The first thing that i thought after watching the movie was, why i didn't see the movie all these time.None of the network channels have played this movie. Don't understand how they can repeatedley telecast so many garbbage movies and forget a gem like ardh sathya.I remember Ramgopal verma telling how Govindh nihlani's ardh sathya was the inspiration for many of his movies. Well i can understand it now.
There is a poem in the movie which is very relevant to the theme. Om puri reads Jyotsna Ghokale's(smitha patel) poetry book and this is one of her favorite poem. It describes his state of mind at that time.
chakravyug mei gusne se pehle
kaun tha mei, aur kesa tha

yeh mujhe yaad hi na rahe

chakravyug mei gusne ke baadh
merey our chakravuy ke beech sirf jaan leva nikhatva thi
is ka mujhe patha he na chaley

chakravyug se bahar nikalney paar
mei mukth ho javun baley hi.
fir be chakravyug ke rachna mei farkh hi naa padega

Marun ya maaron
mara javun ya jaan se mar dhu
iska fesla kaabi na ho payega

soya huva admi jab needh mei se utkhar chalnaa shuru kartha hi
thab saapno ka saansar usey dhubara dhekhi nahi payega

us roshni mei,jo nirnay ki roshni hai
saab kuch saaman hoga kya?

ek paladey mei napun saktha
dushrey paladey par paarush
aur teek tharazhu kei kaantey paar



Ardh sathya
hindi version
http://www.aczoom.com/isongs/hindi/f/xht/2773.htm
Meaning

Before entering the circle of enemies
who was I and how i was

I didn't remember it

After entering it there was only dangerous nearness
between me and the circle
I didn't realize that

After getting out of the circle
even if iam free
Even then the structure of the circle will remain unaltered

whether i die or kill
This will never be decided

when a man starts walking after waking from sleep
He can never see the world of dreams again

In the light, the light of decision
will everything be equal

on one hand is cowardice and other courage
and at the center is a half truth
Here is my interpretation of that.
It could be interpreted in many ways.The first one is interpreting it to the physical world. Here the poem takes the analogy of chakravyug that abhimanyu breaks in mahabharatha to the corruption & political rowdisim.It says, what i was before breaking the chakravug and what iam now are 2 different persons. He knows that he has changed within the chakravug and he is getting closer to it(meaning his compromises with the politicians and his efforts to get himself out of the custodial death that he did).The structure of the chakravyug will remain the same even if he comes out safely(Meaning the politician , goondaism ,police nexus structure will be the same).It goes on to talk about his indecision in taking on the bad elements(kill them) or submitting to them(get killed).How will his action be interpreted in the eyes of the judicial system. The powerful and cowards on a scale can only balance at the half truth.
The second and a better interpretation is his fight with himself.
Here the chakravugh is the immoral and non righteous side of his mind, which the protoganist is fighting to avoid. And it is a constant struggle between himself on what is right and what is wrong.
Comments:
Ardh Stya - Itw as really good .We had a debate in our house whether it is a Art or Commercial movie - I told them teh story of a Art movie and Commercial movie remains the same .It is teh Background score ,Way of Presentation ,Dialogues ,Camera ANgles ,SOng Picturisations that differentitate between teh two movies .
However i did not understand the meaning of that peom in that movie .
However i liked teh fiollowing points
1.CHaracterisations -WOnderful
2.Choice of Characters
3.Om Puri 's controlled anger from his childhood fuelled by his expereinces in his Police Career
Post a Comment
<< Home