Monday, May 16, 2005
what is happening in bollywood?
Is Bollywood changing?.Even though the uncreative bunch of peoples are re hashing english and south indian movies.Not all directors are thinking about making the same type of love stories with beautiful songs.BLACK was a different movie.There are some more nice movie coming out.Suddenly bollywood looks very colorful and varied.
Historical movies
Shyam Benegal's
Bose The forgotten Hero
Ketan Mehta's
The Rising
Akbar khan's
Taj Mahal
Literary Adaptations
Vidhu Vinod chopra's
Parineeta
is based on Sharat chandra chaterji's novel of the same name
Amol Palekhar's
Paheli
is based on rajasthani writer Vijaydan Detha's folk tale "Duvidha".Wish palekhar choose someone else for the hero role :(.
others
Sudhir Mishra's
Hazaaro Khwaishein Aisi
a movie on pre- and post-Emergency days.check out zero's
review
Mahesh Manjrekar
VIRUDDH
which is supposed to be on the lines of
saaransh
Dibakar Banerjee's
KHOSLA KA GHOSLA
was well received in Cannes.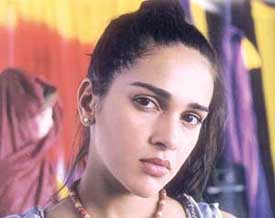 Manish Jha's
Mathrubhoomi
is about a Nation without women.Is getting released in 6 languages including tamil.
Comments:
ram,
yeah, this will lead to the reduction of craps.But let's hope people will welcome these movies.
ramki,
yeah, but it used to be 98% craps.now look at the variety , apart from all the comedies/soft porn's/love stories.
I think the main reasons in the NRI investments coming into bollywood and the NRI market.Now every movie is properly funded/marketed and all big corporations like sahara/ Zee films are into film buisness.
Parneeta -piya bhole was very nice.Bose/hazaron khwaheshien are already out.i think rising will be released in aug and tajmahal later and the rest of the movies are stated to be released in may and june.
I too have the regret that amol choose someone else for paheli.But it is SRK's production so...
Post a Comment
<< Home