Thursday, June 30, 2005
Bazaar 1982
Sagar Sarhadi's Bazaar is a wonderful movie which talks about the state of poor muslim women in hyderabad. The movie rips your heart, potraying the condition of por muslim women and how everything is done within the limits of the religion.This movie came out in 1982.The sad thing is that after all these years we still hear news of people from gulf shopping for girls in hyderabad.
The movie follows 2 threads, a sweet love between Sarju(farooq sheik) and Shabnam(supriya pathek), the other story is about Najma (smitha patil) trying to settle down in life with her lover Akhtar Hussain(Bharat Kapoor).Salim (Naseeruddin Shah) comes as a well known poet who is in love with najma ,even though she is akthar's woman.
Akhtar Hussain's busisness depends on his boss Shakhir ali khan.shakir who returns from abroad asks him to find a girl for him.He is a old guy who has his own fmaily ( a wife and 3 sons).Akhtar asks najma to help him find a girl in hyderabad.Najma who lives in the boss's house given to akthar says yes as the boss threatens to take the house and business from them, if they dont help him.
Najma books tickets to hyderabad, and they decide to go find a girl and fix the marriage in 10 days.So Najma,akthar.salim,boss and another friend go on a trip to the hyderabad Baazar to BUY a girl.
Shakir ali khan likes shabnam(supriya pathak) who sings in a family get together.Najma fixes the marriage without knowing that her brother (farooque sheikh) is in love with her.Whether farooq sheik marries shabnam? what happened to najma? is the rest of the story.
Like the heroines of the previous movies umrao jaan,chakra & arth all najma wants is a house and family of her own.This movie unlike the other ones is not a personal story but a social commentary.
All the characters in this movie seem to have a longing.Either for love or money.There is two one sided love affairs salim's love of najma and shabnam's friend nasreen's love for sajju.
The movie will shake you, with its realistic portrayal and the sad conditions that prevail in those area.The romance between farooq and the beautiful supriya is shown very well.shabanam after singing at the meeting tells him not to ask her to sing before unknown peoples and asks him to hide her from the society and let nobody other than him see her.This sensitivity of that pretty girl acts as a counter point to the open bride buying process of shakir ali khan and makes to think not only sarju but us also to protect her against any evil.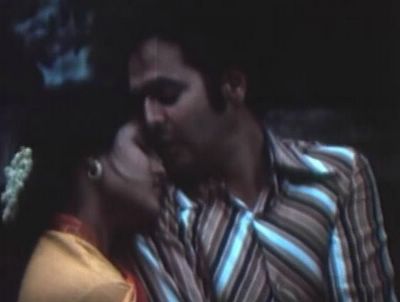 Salim is the only person who opposes everything.Najma realises her mistake but carries on cause her marriage also depends on that.Salim argues that
if shakir ali khan comes and asks a dad that he wants to buy his girl, the father will kill him.But if the same shakir ali khan, takes the support of religion, custom and asks his teen age daughter for marriage, that man wont refuse.Cause that is what in the society.He will marry her daughter saying that it is her fate.
Good performance by farooq sheikh,nasrudeen smita patil & supriya pathak.
The movie is studded with deadly gazhals.
Phir Chiddi Raat
by Lata Mangeshkar &
Talat Aziz
Lyrics : Makhdoom Mohiuddin
It is hard to choose the better song when all are good.But my pick from the movie would be this song, talat aziz's velvetty voice the beautiful supriya pathak and farooq sheik singing it in a moon lit night.just awesome.I felt that lata shouldn't have sung this song.The song would have been lot better if some body else with a softer voice would have sung the song.I felt the velvetty
Talat Aziz
and lata were not a good combination.
This is what Talat had to say about the song. "Phir chhidi raat baat: A song typical of Khaiyyam Sahab. Even today it is a must sing in my live concerts. The song was set in raga Bageshwari and in those days singers would sing duets together and with the orchestra. Two of my first three film songs were with Lataji and this one, from the film Bazaar, was the second of the duets. It was written by Makhdoom Moin-ud-din."
Dekhlo Aaj Hamko
by jagjit kaur Lyrics : Mirza Shauq
Sajju wants to see shabnam for the last time before her marriage and they get to meet.Shabnam sings this song."Dekhlo Aaj Hamko Jee bharkhey" (See me to your heart content).
I saw the movie and liked this song.i heard it again after a couple of weeks.The slow pace of the song and jagjit kaur's haunting voice, just floods you with the pain and the sweet romance of supriya pathak & farooq sheik.In seconds,you are transported into their world.
Dikhai Diye Yun
by Lata Mangeshkar Lyrics : Mir Taqi Mir
This is the song that shabnam sings at the family meeting.Beautiful melody by lata mangeshkar.The song is interpreted differenly by the different love pairs sitting there.
Karoge Yaad To
by Bhupinder Lyrics : Bashar Nawaz
This is the song that salim sings thinking about his old memories with najma.Beautiful lyrics.
yeah chandh bithey zamano ka aina hogha
(This moon will become the mirror of the past)
There is one marriage song
Chale Aao Saiyan
by Jagjit Kaur, Pramela Chopra Lyrics : Mirza Shauq
Liten to all the bazaar songs
here
The movie was nominated for Best film,actor,actress and supporting actress roles at the 30th filmfare awards.It lost almost all the awards to movie like shakthi,prem rog etc.Only Supriya pathak got the Best Actress In A Supporting Role for her part in this movie.Smita patil lost the best actress national award to shabana azmi in Arth.I think smita deserved the award that year if not for bazaar atleast for arth.
Comments:
.. and more coincidences.
Actually, I noted both Chakra and Bazaar in Landmark some months ago and they are up in my list since then. I ve the vcd copy too as I told you the other day. The similarity which I sensed then was that they were released around the same time and both the movies were one-off efforts for the respective directors. And now, I find you writing about them within a couple of days...
Post a Comment
<< Home