Tuesday, May 10, 2005
SWAMI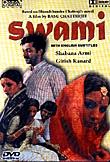 I decided to watch "swami", just cause it was a basu chatterji movie.I started admiring basu chatterji after watching Choti si baat, which is one of my favourite hindi movies.
Basu chatterji
is another clean film maker,who does not add any unnecessary masala elements into the movie. Check out his filmography
here
.Another great thing about him has been his repeated usage of KJJ in many of his movies. swami won him the best director award in 1977.
The DVD said the movie was based on the story of
Sarat Chandra Chattopadhyaya*
,the
author
of the classic DEVDAS. Vidhu Vinod Chopra movie
Parineeta
is also based on his story.
I think this movie or the sarat chandra chatterji novel must have inspired maniratnam to develop "mouna ragam". Even though the movies are completely different in the presentation.The core of both the movies seem to be the same.
via
manismagic
************
The movie starts with the first person narration of Soudhamini(
Shabna azmi
).She starts by saying "Soudhamini.I don't know why parents named me soudhamini". She goes on to say that she has made a mistake by not understanding her husband and starts her story.She lives with her widowed mother and uncle(utpal dutt).She is an educated, egoistic, independent woman who is pampered by her uncle. She falls in love with her neighbor Naren(Vikram), a college educated, modern guy. Her mother decides to get her married to ghanshyam (girish karnad).
Soudhamini's mother insists her uncle to go and see the groom.Her uncle who is aware of her love affair, assures soudhamini that she doesn't have to be worried and only what she thinks will happen. But when he comes back, he has an heart attack. In the dieing moments he says that ghanshyam is the right match for her and that she should marry him.
Soudhamini who does not want to disrespect her uncles last wishes agress for the marriage. She writes a letter to naren hoping that he will come stop the marriage and marry her. But it does not happen and she gets married to ghanshyam.
She has a hard time adjusting to her inlaws environment.Her mother in law likes her son nikhil, who works in PWD and earns a lot more than ganshyam the son of the deceased first wife. The family gives more attention to nikhil and they ignore ghanshyam.Ghanshyam is a patient person who bears all the difficulty. He never gets disturbed by anything and is very soft natured.
Soundhamini who is still thinking about naren, sleeps separately.Ghanshyam does all the works by himself and soudhamini like other family members also does not help him.Events in the family makes soudhamini change her heart on ghanshyam.she starts helping him and one day she decides to sleep on her husbands cot, trying to make a gesture that she is ready to consumate the marraige. Ghanshyam who comes late, see's her in his cot.He doesn't even think twice.he goes ahead and sleeps in the floor. saudhamini is disappointed.
One fine day naren comes to see nikhil who was his college friend. He talks to saudhamini and explains her that he was not able to come and stop the marriage because he was ill and that he is ready to take her back. Saudhamini does not agree with him as she has already changed her heart. But the family, hears her talking all these things with naren and they accuse her as a wanton woman. saudhamini argues agaist her mother in law, that she is innocent. Tempers run high and soudhamini says some disrespectful words to her mother in law.Ghanshyam who comes there ask's her to apologise to his mother. She stands her ground and leaves the house.
Naren who is also asked to leave the house, meets soudhamini at the railway station and starts saying to her that she does not have to worry about anything and that he has a house in calcutta etc. soudhamini realizes her mistake, she starts thinking what people will think of her now, they might think she left the house for naren. She then starts thinking about all the good things of her swami(husband) and regrets coming out of the house.Naren says that no one will take her back now and the only thing for her to do is to go with him.The train arrives and naren goes to put his luggage's in the train. Ghanshyam also comes to the station. She asks for his forgiveness. Ghanshyam forgives her and says that he knew all about naren. Her uncle told him about everything when he first came to see him. The Train starts and Naren watches the pair from the moving train.soudhamini comes home, sits in the cot and starts saying "Soudhamini.I don't know why my parents named me soudhamini".
******************
Kind of an average performance by everybody including the 5 time national award winner azmi.
Rajesh Roshan has done the music for the movie. It has four beautiful songs.
1)Phal bhar mein by lata mangeshkar,
2)Yadhoon mei woh by kishore Da, this is another nostalgic number by him.
3)Ka Karoon Sajjni by KJJ.This song needs more than one line so will write seperately.click
here
4)Kab Jaaongi By KJJ & Asha Bonsle.This is a beautiful duet by KJJ and Asha.a Typical KJJ song of the 70's.He sings the song with a strong malayalam accent & mispronounciation.But the melody and the sweetness of the voice makes us ignore it.This song is similar to the Jan e man song in chote se bath.Dharmendra and hema malini do a guest appearence in this song too.
*)Sarat chandra Chattopadhyay is also know as sarat Chandra Chatterjee, Sarat Chandra Chatterji.Similarly Bankim Chandra Chatterjee, is known as Bankim Chandra Chattopadhyay. I was wondering why this 2 names for the same person??
This is what i found
Each pair of these names is actually considered to be the same name, the "-upadhyay" form considered to be the "correct" form (the word "upadhya" means "assistant teacher" or "priest") and is the form that will be used in formal situations even if the person in question uses the "-ji" form on a day-to-day basis.
Comments:
mani's 'Mouna Raagam' was a classic.
Whether it was inspired by something else or not, it was presented perfectly.
Tamil cine audience started getting the fresh air from then onwards... different frm the typical SP.Muthuraman / Rama.Narayanan stuff and the family drams of KB / Visu etc.,
Post a Comment
<< Home