Thursday, May 12, 2005
Ka karoon Sajani
Swami review
When i took the DVD I didn't know that i was in for a surprise.When i was watching the movie, i had to go to the next room to take up a call.I was talking on the phone and i heard the song from the Tv room. "
Ka Karoon Sajani, Aaye Na Baalam
".I was delighted, cause this is one of my favourite song.
I remember hearing this song the first time in a KJJ interview.It was one of those special programmes that was televised on diwali or some other festival in good old Doordarshan days. Y.G.Mahendran interviewed K.J.J. I think he sang this song to KJJ and started the interview .The song kind of stuck in my mind since then.Don't know whether they showed a clipping in the interview or whether i saw the song in rangoli(sunday morning hindi songs programme), i somehow mistakenly registered in my mind that the singer was farooq shiek.I searched for this song among all farooq sheik movies and i didn't find it.This was in B.G(Before google).so i quit searching for the film name.
So when i heard the song last week i was delighted.Now i know that the singer is not farooq sheik but dhiraj kumar who plays nikhil (brother of ghanshyam).Dhiraj does a mike mohan for the song.He gives some head shakings and other exaggerated facial expressions for the song.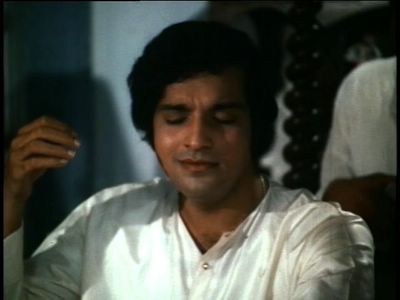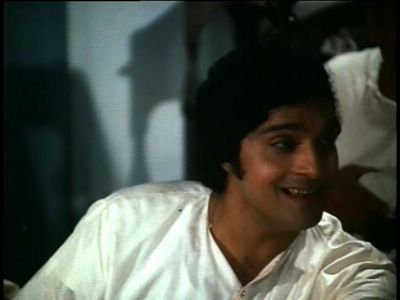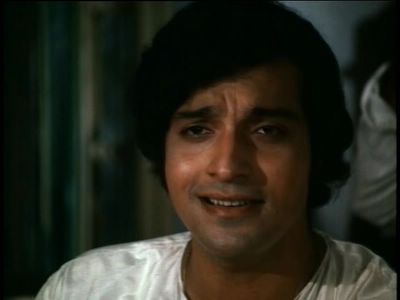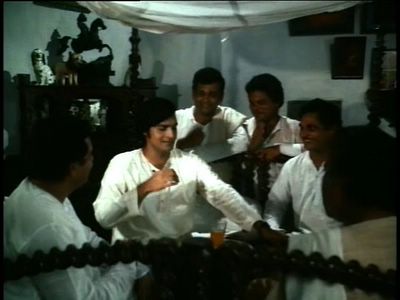 Listen to the song
here
.
This song is one of those gems of
KJJ's hindi songs
.The song has this sustained melody which is such a pleasure to hear.I am mesmarised when ever i hear this song.You go into a total state of helplessness. Like a log that is being sweapt away by the river,you are swept away by the melody and KJJ.The words are elongated and repeated to give a beautiful bhavam.I feel that illayaraaja's melodies lack this kind of rendition of the words.I came to know from the film that this song is a
thumri*
.
A very very rough translation of the song.Corrections are welcome :).
kaa karuu.N sajanii, aae na baalam
what shall i do my friend,My love didn't come,

khoj rahii hai.n piyaa paradesii a.Nkhiyaa.N - 2

my eyes are searching for you stranger.

aae na baalam

jab bhii koii, aahaT hoe, manavaa moraa bhaage

when ever there is a sound of a foot step, heart races like a peacock


dekho kahii.n, TuuTe nahii.n, prem ke ye dhaage

watch it and dont let this love thread of our's break.


ye matavaarii priit hamaarii
chhupe na chhupaae - (2)

cannot hide this love of our's even if you want to. oh lunatic


saavan ho tum mai.n huu.N torii badariyaa

you are the rainy season and iam your cloud


aaye na baalam, kaa karuu.N...

bhor bha_ii aur, saa.Njh Dhalii re, samay ne lii a.nga.Daaii

sun has set and morning has come,


ye jag saaraa, nii.nd se haaraa, mohe nii.nd na aaii

this world lost to sleep,but iam not getting any sleep


mai.n ghabaraauu.N, Dar Dar jaauu.N

i fear,i get afraid


aae vo na aae - (2)

whether he will come or not?


raadhaa bulaae kahaa.N khoe ho kanhaiyyaa

radha is calling where are you lost krishna
aae na baalam, kaa karuu.N...
Lyrics via
Archive of Hindi Movie songs
Music by rajesh roshan and lyrics by Amit Khanna.I dont know whether it is the music director,lyricist or the director who came up with the idea of using something on the lines of a famous thumri by
Ustad Bade Gulam Ali Khan
, "Ka Karoon Sajani Aaye na balam".listen it
here
Its ghanshyam's marriage.It's night and nikhil's friends ask him to sing a song.Nikhil sings "ka karoon".The song fits the situation aptly and adds multiple meanings to the scene.Its the suhag rath(first night) of soudhamini.But ghanshyam goes to work even on his marriage day and he is not home yet.The song ka karoon sajni, Aye na balam(What should I do My Friend,My lover didn't come) could be viewed as the straight forward radha singing about krishna or saudhamini waiting for ghanshyam.soudhamini thinks about naren (who didn't come to stop the marriage) during the song and it could be viewed in that context also.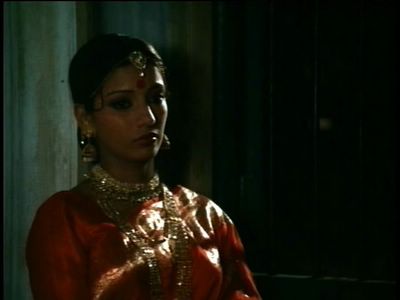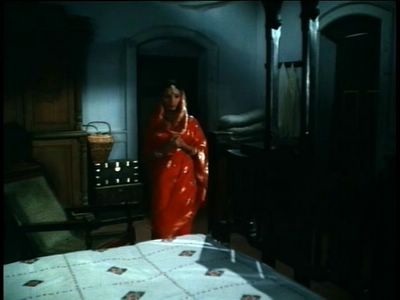 Rajesh Roshan
*
Thumri
is a common style of light classical music.The text of Thumris are composed mainly in Braj Bhasha (an old Indian language).The predominant theme of the Thumri is erotic fantasy, with all its twists and turns and shifting panorama of colors. Deep-rooted sentiments and some typical situation, phase or temperament of common rural folk is usually depicted. The Thumri is also associated with Holi and the 'Rasa-Lila' of Radha-Krishna.
*Another one:
The text is romantic and devotional in nature, and usually revolves around a girl's love for Krishna particularly focussing on the separation of lovers and the pranks of Lord Krishna as a playful lover. These texts are invariably in the female voice. This style is characterized by a greater flexibility with the rag. The compositions are usually set to kaherava of 8 beats, addha tal of 16 beats, or dipchandi of 14 beats. It arose in popularity during the 19th century.
Links
thumri
Rajesh Roshan
Hindi lyrics
english lyrics
KJJ hindi hits
Comments:
dear friend you have a cool blog,
good to know a lot about this song,
this song is one of my fav. tooo...
all I wanted to write was , there was a small spell mistake in that page of ka karoo sajini.....
friend it may be a small mistake by chance ,so me thought of correcting it....
there you wrote a wrong spelling of Dr .Kattassery Joseph Yesudas that is Dr. KJ Yesudas (KJY) a great singer..ofcourse a living legend......
wanted to inform you about that error...if seen please do correct it... THANK YOU..
Post a Comment
<< Home