Sunday, January 16, 2005
A Real Life Hero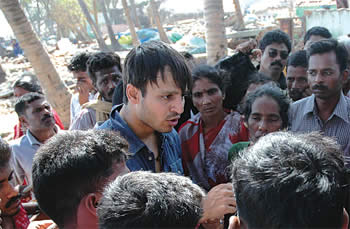 After vivek oberoi adopted the village of devanathapuram in Tamil Nadu, lot of people in film industry started saying that it was all a publicity stunt, Vikek is doing it to get media attention etc.Even kamal hassan couple of weeks ago in a local tamil magazine indirectly said that it is a media blitz. He said that "It is pathetic that these type of film stars are using a disaster to get public attention".
Subhash K jha in his article titled "
Vivek: Hero or publicity-hungry
" compared vivek with the movie swades and said that "No one could believe any film could be so devoid of negativity, so filled with nobility and goodness".Are we in a time where we cannot accept anything good, have we come to a conclusion that people like vivek cannot exist??.
On the contrary to what the accusers think ,Vivek has a philanthropic record.
courtesy
viveks-angels
He has associated himself with 2 organizations for a long time.The Banyan(for mentally ill woman) in chennai and Angan(for street children ) in mumbai.
Vivek on Angan
Vivek at Banyan
News clips
He was formally awarded the Special Director's General Award by WHO (World Health Organization) for his aggressive campaigning against the use of tobacco on the World No Tobacco Day May 31, 2004.





He recently organised an auction for Aangan where they raised Rs 10 lakh. He is a fund raiser for women support group, Banyan.





He says no to Tobacco. He is taking part in an anti Tobacco commercial for the Cancer Patients Aid Association





Vivek's mother father and both side grand parents have been involved in uplifting the less fortunate of the society. Father, Suresh Oberoi has always actively supported primary education and mother Yashodhara works with terminally ill cancer patients and their families. The family has established the Yashodhara Oberoi Foundation. They plan to set up a cancer hospital for the low-income group and are in the process of selecting the location for it.



Vivek has quoted that
"

My connection to Chennai is through my mom. She was born and brought up here, on Taylors Road. In fact, my nani and uncle still live here. As a kid, I used to come here for my holidays,I have plenty of beautiful memories of the city, especially the Marina beach

".

There is no wonder he wanted to help the people's here.
And i dont understand why people or not seeing the positive side of things.In western countries like US.A family donating a few old clothes and food packets for the poor will be a news item and they will be projected as model citizens. But here is a guy who has gone and lived amongst the victims without carrying about his personal safety ,has donated millions of rupees and is getting hands dirty to get things done and still people or accusing him.Maybe people or envying him.
Here is what
had to say about vivek's effort.
kamal himself has appreciated vivek's work now and he is also trying to do some relief work himself.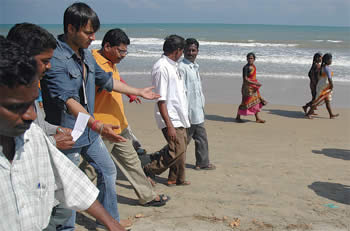 Madhavan: "You should come down here (to Tamil Nadu) to see how Vivek is regarded in these parts. The work he has done is beyond praise. It's a miracle of humanity. And to suggest that Vivek did it to get a few lines about himself written in the papers is downright sick. I want to ask all those who are questioning his motives to please come down to the ravaged villages and try to look into the eyes of those little children who have overnight lost everything. Vivek has done what very few of us have the time, guts or inclination to do."

Karan Johar: "I guess we all have our own way of dealing with tragedy, personal or national. Vivek and Rahul have done the industry proud."

I think he deserves the full credit on the great effort that he has done.
more links
ny times
http://www.thehindu.com/2004/10/04/stories/2004100410540600.htm
http://www.apunkachoice.com/scoop/bollywood/20040713-3.html
http://in.rediff.com/movies/2005/jan/05vivek.htm
Comments:
I cant believe people can talk crap about such a genuine individual. My heart goes out to all the vivek and all the unsung heros of india.
Sai
Post a Comment
<< Home