Thursday, January 27, 2005
Padma Shree / Padma Bhushan For Sale
Does Sharukh khan deserve Padma Shree?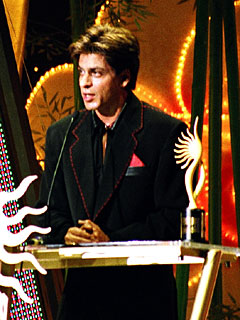 This guy is an average actor, who hasn't learned or matured in his acting since the start of his career.He can't express more than two emotions, and here he is, a Padma Shree award winner.
I dont know on what criteria he was given the Padma Shree.The award committee should stop giving awards just for the reason that they have to give it to some one every year and stop disgracing the previous award winners.This is even worse than the Padma Bhushan that was awarded to Rajini kanth.
The only possible reason that i can see is ,he might be joining congress soon.
Comments:
Rajini makes money for his producer. As a movie maker that's all I care. Rajinee did not become the super star overnight; this is another discussion I am not ready to go there. In every job there is an element called "hard work" and you consider acting as the only element to get padambushans and padamashrees
but I also see the Popularity, Investment returns, good will earned etc as other criteria, I think Sharuk and Rajinee pass most criteria with flying colors.
Sriks.
Post a Comment
<< Home