Tuesday, November 23, 2004
Nov 25th 7thDay
Lost In Translation
check out the day 7 photo album
here
Today was an hectic day spent most of the time in traveling. I was supposed to leave cusco early in the morning around 7.00 am, but the flights were delayed for an hour due to bad weather used that time to wander around the airport. The bookstalls had books of lot of famous latin american authors including my favorite gabriel garcia marquez. But there was all the western best sellers also, they even had Ann Coultran and Michael moore books.
i traveled back in TANS airlines one of the 3 local airlines. This is the worst of the 3.i traveled in this plane once before from the amazon to cusco. had all the bad experience iam going to describe now. i thought it is just that plane. but all the planes seem to be alike. It starts wobbling during the descent and asent. wobbling in the sense the metal plates on the top starts making noise. suddenly the ac wont work and it gets hot in the plane. I told one of the indian guy i met dhiraj, that if you are traveling in TANS you should be carefully listening to the safety instruction that they give at the start. Cause it is that bad. Well it happened again to me.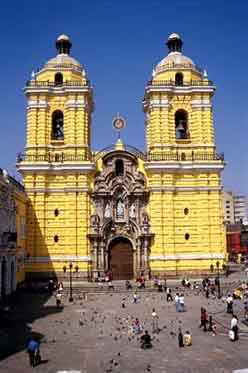 I was supposed to go to lima and on the same day take a bus to nazca at 3.00 pm.i had 6 hrs to kill in lima. I was received by Mr pablo my tour operator in lima. Before coming to peru i was talking with this girl called paola who is good in english,but she is just a worker and pablo is the manager. pablo´s english is broken.
i had the tour of the lima city center and the st.fransico cathedral. The cathedral was amazing, yet another historical story of a group of powerful people who lived a luxurious life sucking the blood of poor & illiterates people.
There was another last supper painting here.Again jesus was having the guinea big for dinner.Check out the devil talking to judas in the painting.
There was a catacomb inside the church. The church had an underground passage for the catacomb.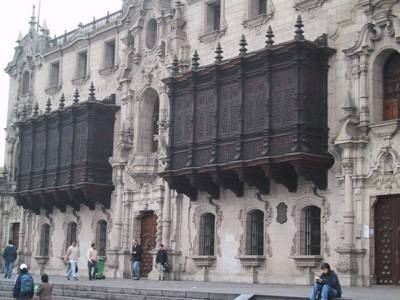 Currently 95% of peruvian population are christians. thanxs to the relentless efforts of spanish who didn't rest till they converted the last quechua people. They seemed to have adopted a great stratergy. They just customized there religion for the locals.Like the last supper where jesus is eating a ginea pig. The monks even went to an extent where they even approved polygamy, as it was common with the locals. So now peruvians are qechua Christians, where they follow lot of there traditional stuff with Christianity. To make a long story short another western nation successfully messed up the culture of the indigenous people and left them with a confused identity.
After HEARING all the religious information that was given to me. i came out of the church and went to miraflores, which is the rich people area of lima. It seemed like a different city compared to the slums. Mira flores is right on the beach with high rise building representing the modern peru.
Pablo took me to a
cebiche
restaurent.cebiche is the most special dish for peruvians.It is just sea foods cooked in a certain way. Mainly fish bits cooked in lemon juice. When you add Roccotto(peruvian chilly) to it, it tastes very good.i went with paola and pablo to that restaurent. My inquisitive mind was asking so many questions and paola who is very inexperienced in the travel industry didn´t know the answers and she had to ask pablo for the answers and was translation everything back and forth. so me and pablo were talking like 2 head of states speaking different language with an interpreter. but we had to do that for atleast 2,3 hours and it got boring after a while.
The bus to nazca was supposed to start at 3.00 pm but it didn't it got delayed to 4.00 pm. paola was talking about PST(peruvian standard time).i was thinking about IST. i thought to myself this must me made a global acronym as TWCT(Third World Country Time).Around 3.30 a executive class bus was there. but mine was a business class one. I was waiting till 4.00.still there was no bus around 4.15 i went and asked the guy at the gates and he asked me to wait at the waiting room. the waiting room was near the executive class bus and was waiting for a while. I told the girl to let me know if they did a boarding call for my bus. she said the executive class bus was the one that i should go on.i checked with couple of other and they all those people she asked to wait said that was bus. weird. Anyhow was happy that at least the delay got me upgraded to a better bus.
The long distance buses in peru are double deckers. got a seat at the top.it was fun to travel sitting at the front row of the upper level bus. The Pan american highway(It was a highway was constructed with the idea of connecting argentina to alaska.I think except for a 100 mile or so most of the construction is complete.) was multi lane at some places. But it becomes single lanes and they pretty much drive like in india. dimming the head lights in the night. Blocking the 2 lanes trying to overtake etc etc.T here was a tv on the bus.I thought they would be playing an english movie or a high action peruvian movie.But i was in for a sweet surprise. They screened Majid majidi's "Childrens of Heaven", which was a commercial version of his other movie white balloon. Never expected an iranian movie in a peruvian bus. As i have already seen the movie .I slept.
Going south of lima the landscape changed dramatically. There was the pacific ocean sea line on the west and it was all smoggy. There seem to be dust everywhere. slowly there mountains started to appear. Most of the mountains where sands than rocks and they were in black red and all other colors representing the minerals deposits they have. Mining is the number one money earner for peru. Peru is sitting on such a great mineral resource ,but it is not properly utilizing it. All along the coastline from lima to NAzca was mineral deposits on both sides. After visiting the rain forest and high altitude andean mountians ,here iam at the smoggy desert of the coast line of peru.