Friday, November 26, 2004
Nov 24th Day 6
Machu picchu -The lost city of the incas
check out day 6 photo album
here
Today was the D-Day , I am going to Machu picchu. I was all excited. Machu Picchu is situated at an altitude of 8,200 feet in the Urubamba River Valley of Peruvian Andes. The Spaniards when they conquered peru, destroyed all the inca buildings and sites. But somehow Machu picchu escaped. There are lot of theories on why Machu picchu was not destroyed. The famous one tells that ,for some reasons the incan's deserted this city and jungle growth covered the deserted city for years so the Spanish conquistadors were never aware of this place. It was a lost city until 1911.when an U.S. explorer named Hiram Bingham discovered the Machu Picchu.
My tour agent told me to be ready by 6.30 am. The night before when i was about to keep my alarm. I thought about what a fellow passenger told me when i was on the sacred valley tour. He said the first train is at 6.30 am. I first thought probably iam going on the second train. But i though it is better to get up early and get ready for the 6.30 train to be on the safer side. What i thought turned out right. My tour operator in cusco gave me the wrong timing. I had to rush to make it to the train. The first of my many last minute rush for transportation in peru.
The train was doing something funny. It was going up and down on the same track. I was wondering what was happening. Later came to know that the train was actually climbing up the mountains like stairs in a staircase. Because cusco is a valley surrounded by mountains, they use this technique to get past the mountain range.
The train starts from the valley and climbs the mountain by zig zagging it. The train start from point A and reaches point C crossing B. Once it reaches C. The back of the train is beyond point B. Now the train starts moving backwards but it takes the upward track starting from point B.. So from A to C we will be traveling forward and from B to D backwards. I think there were 8 or 10 joints and it took more than an hour to climb up all of them even thought the distance was short.
I was traveling with an Australian, Peruvian mixed family. There was not much interaction, i ended up playing with their 6 yr old daughter nikki.i would say that she was the prettiest peruvian(or australian) i met on the trip. The ride was scenic.
Nikki
The train took around 4,5 hours to get to aguas caliantes. Aguas caliantes is a small town on the foot hills of the mountain's can take a bus from there to Machu pichhu ,takes about 30 minutes. Lot of people hike it to.
Zig zag road
The bus ride was another zigzag road. After reaching the top, had to hike a bit. Even though it is a short distance, at that height, when u are already breathing heavily ,even small steps tires you. On the hike up, i started talking to these two guys , who i have already met in the sacred valley tour. They were on the same bus, but i never got any chance to talk with them. Came to know that they are two Swedes doing the RTW(Round the world) trip.I have been dreaming about a RTW trip for so long. I was excited and started talking more about there trip. They were very casual guys. I asked them what they are doing tommorrow. One of the guys, Blasker said,

I dont know , probably go to bolivia.We will decide that tommorrow.
They were so laid back.
Blasker
I had to leave them as they were with another group today. The trail had a partial view of Machu picchu at the start. Then both sides were covered with trees. After a few minutes,i got to the top. Suddenly the tree line on the side of the trail ended, and there was the panaromic view of Machu picchu. The view was beautiful. It made me realize why it is in the "15 places, u have to visit before you die" list :).It is kind of taj mahal. You can see in pictures , watch it in video. But u have to go there to experience it. Machu picchu was the same but 10 times better than taj mahal. It is completely surrounded by mountains. In the middle is wayna picchu the solitary mountain in the background of the ruins. And machu picchu has these light green grasses on a dark green mountain background. The beautiful architecture of the ruins adds the the beauty. The whole area is little misty and you can see clouds on the top of the mountains, in the background. I completed 2,3 film rolls in an hour. It is a beauty way beyond my writing skills.
Taj mahal or machu picchu what ever your choice is you can vote it at the
new 7 wonders of the world
.
At Machu picchu the incan architecture was different than what the used in sachsahuaman. They didn't use big stones like what they used in sachsahuaman. They used smaller stones and they seemed to have used the rocks and other structures that were already present to there advantage. They shaped there stones to match the structure that was already there.
I was wondering about the people who would have lived in machu picchu. They got to see this breath taking scenery every day. Would they have lived a more peaceful and calm life. Or only the rich would have enjoyed the place and the peasants had to work hard every day , without bothering about the surroundings. why did they desert such a beautiful city ??.Did the incans interpret some natural phenomenon as a bad sign and left the city??. I had too many unanswered questions. Lot of places in peru had that mystical quality.
Had lunch in aguas calliantis.At Aguas calliantis the restaurants, hotels and shops where right on the train station. I remembered a woman complaining on a travel forum that her hotel peoples did not come to pick her up.I realized after seeing the surrondings that all she had to do was walk up a block for her hotel.
From the restaurent
I went to a restaurant called pachamanca for dinner. I started talking to the waiter there. A very passionate and impulsive person, he started talking a lot to me. That was haymer cano. Fatherless cano helps his mother in the house, goes to school and does this waiting job part time. His dream is to become an entomologist one day and discover some bug and get his name into the annals of entomology. But he was also aware that it is an uphill task in a corrupt 3rd world country like peru, where only connections at high places can get you into college or what ever you want.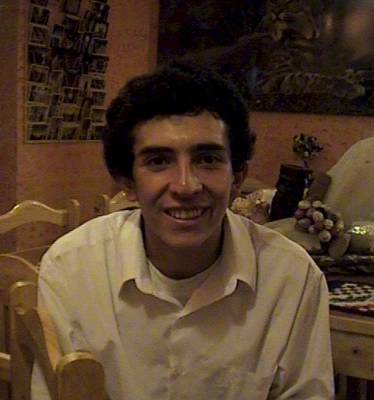 As an indian, i was able to understand him completely. I was happy to meet someone so full of dreams and hopes. But i was afraid this bird might get caught in the thorns of reality. I sincerely wished his dreamy wings will make him soar above the hardships that lies ahead.