Wednesday, October 06, 2004
Final Frontier, Conquered
The Australians have conquered the final frontier.They have broken the 35 year old jinx.Was a great disappointment for the indian fans.Event thought the serious had its usual IND Vs AUS drama.Everything was sealed after the 2nd test match in chennai.we can invent reasons like, if it didn't rain, we would have won the match and the morale would have been up, if Kishor Pradhan, the nagpur pitch curator would have shaved more grass of the pitch, if lakshmipathy was fit.But the bottomline we lost it.
This series seemed to lack something from the former one's.Let's remember some great moments these teams have produced and hope for some great test matches in the future.
2001 Eden gardens

The greatest comeback match.History was created on eden gardens march 2003.Dravid and VVS made a permanent seat for themselves in the cricket folklore.From a follow on to 171 run victory india crushed the aussies.And of course bhajji sealed the victory with his 13 wickets.
The stars of the match VVS & bhajji taking a
victory Lap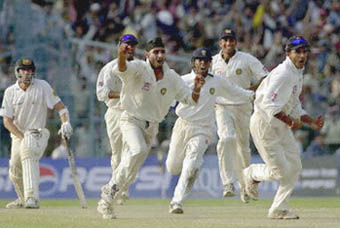 The team celebrates the last wicket, McGrath Lbw Harbajan

check out the
score card
2003 Adelaide
Dravid scores the winning runs

Again the same pair of rahul dravid and VVS gave a great victory for india.sourav said
Dravid,Laxman batted like God.
The Score Card
Read More about it
here