Sunday, November 28, 2004
Nov 20th, Day2
Check out Day 2 photo album
here
Woke up early morning, well i didn't sleep at all the whole night. I should say i got out of the bed early morning and was driven to the airport.Finally I met paola, she had come with Mr.pablo.I was expecting a old lady and there she was a young girl in her early 20's.She is a tourism graduate and knows 3 languages, spanish, english & french.I was impressed with her arrangements and her business acumen to catch potential clients on the internet.
Had to pay airport tax to get onto the plane. Which was first of the many airport taxes that I had to pay in peru. For all the taxes that i paid i could have taken another internal flight in peru. The plane ride was cool. I just got into the plane and went to sleep straight away .
when i woke up the plane was over cusco. Nice scenery was unfolding, the blue high andes with valley now and then. The plane stopped in cusco for awhile and then started to puerto maldonado the nearest airport for amazon in south eastern peru. Within 10 /15 minutes from cusco the landscape changed from andes range to lush green forest.
Amazon was incredible to watch from the air. The river was orangish/brown .It reminded me of arundhathi roy's description of kerala after monsoon in "God of small things".
Heaven opened and the water hammered down , reviving the reluctant old well , greenmossing the pig less pigsty, carpet bombing still , tea-colored puddles, the way memory bombs still, tea-colored minds.
Amazon was looking like a tea colored river. It felt as if god has spilled his cup of tea on earth.
The river was never straight, it was meandering, making beautiful curves for photography. I was having two types of thoughts, The sensitive part of my brain was observing the beauty and was getting poetic. The scientific part of my brain started asking lot of questions like "why the river is not straight and it is always meandering"**.
When I was looking for jungle lodges all of them seemed to have an ox bow lake and they were not the same one. I was wondering how come every lodge can have a lake of the same name **. It turned out it also had something to do with the meandering river.
Puerto maldonando was a small airport. Little bigger than the distance between the stumps in cricket. I went outside, everybody who came with me found there guide and where off. But i didn't find mine. I was the only guy left there, i began to worry. Then someone called my name and there was my ride. Seemed they had only one placard and they used it for someone else. We were put on a funny looking van, the top of the van was made like a hut, with thatches.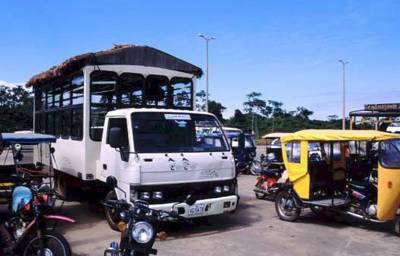 That's right it is an auto rickshaw and couple of bikes. Auto rickshaws are common here. Thanxs to hamara bajaj.
There was like 10 peoples including the guides. There was an American family of 5 the small girl introduced herself and started talking to me. There was another girl who was speaking with an Australian accent and a guy apart from me. We went to the office near the airport, do drop the heavy baggage and stuff as we can take only a certain amount of weight in the boat. We ere supposed to go about 45 minutes in the road and then another 45 minutes on the river to reach the lodge.
Before starting i saw a small kid trying to drive the van on the front. started talking with him, well was trying to talk with him. He was the son of the driver, i sat with the driver on the front and was trying to make some conversation. I found out that his son's name was sergio, and that he has another son and they are both studying etc. I think i did well in my first sign language test.I got so much info for someone who doesn't know spanish.
Sergio
They say u can identify a gentle man by his shoe's.check out sergio's
Little rascal
When we reached the river the girl with the Australian accent introduced herself as Catherine an Charted accountant from south Africa(didn't know they had an Australian type accent). She told me that her boy friend who was a software engineer, one day decided to quit his job, went on a long trip to south east asia, australia, came back and decided that software engg is not for him and became a teacher. That sounded more like my mental state now. The other guy was faulkner from germany, another computer guy. There was a small shop on the river bank. That small shop in the middle of the jungle was selling coco cola. Talk about Internationalization. But i had a inca cola.Inca cola is the no 1 drink in Peru. I guess the only country where a local drink is is selling more than coca cola.
The boat ride was nice, after around 45 minutes reached the lodge. the lodge is a 10 min hike from the river. The manager of the lodge greeted us and gave us some basic info about the lodge. The lodge does not have any electricity except for the dinning room which runs on the generator for 3 hours in the night. They hand wash the clothes and use bio-degradable soap. All the rooms had lanterns and candles. Every room had a bed with a mosquito net and a hammock. The best part was this that none of the rooms were closed. One side of the room facing the jungle was open. Because of the humidity in the jungle the rooms are built that way.
I went to a canopy tower near by to observe the birds. I started talking with my guide rodalfo. He is a native. His family lives in the jungle. His parents where jungle tribes men who hunted there food. Rodolfo on the other hand went to cusco/lima to study english and has become a guide today.
He told me his story. He started working at the lodge as a construction guy. Then was a bar tender assistant for 2 years. He wanted more and he went to cusco to study english. But it was hard for him and he was not able to complete the course. He came back and was rowing the tour catamaran for 3 years. Then again he went to lima to study english and this time he passed the course. He came back and became a guide.
For some one who's parents have not even seen cusco. He is sending his daughter to an english school and wants her to be someone big in the future. It was inspiring to listen to how he has hard worked to be what he is now. And i was very glad on how tourism is helping the native peoples. He also said that the community has a primary and higher sec school in the jungle itself.way to go.
The canopy tower was a 35 meter high iron structure tied to different trees on the surrounding. It was little shaky at the top. From the tower i was able to see the river, sun was setting and there was a rainbow also. It was beautiful evening. Saw a few birds and monkeys and walked back to the lodge. When we got down from the tower it was all dark. Night sets in so fast in the jungle. Had to walk carefully back .There were thousands of
leaf cutter ant's
.They have made a separate trail 7/8 cms wide right next to our trail.
The dining room was very lively. Everybody was there. I didn't realize so many people are staying at the lodge. There was a bar in the dinning room. Tried a drink called crazy monkey. I started talking with this guy who i saw at the office in puerto maldonado , but never got a chance to talk. He was carlos yamashita. A second generation Brazilian Japanese. A biologist, doing a project there. Because he was a second generation Japanese he does not know Japanese language, his son has been learning Japanese and is trying to teach him it seems.I was surprised when he started talking about tamil and India. He said he has been to Singapore and had met so many indians there. He was asking about andamans and was saying that he have to get so many permission to visit the islands inhabited by the natives. When i asked him why he is so interested in andamans, he said there are a lot of animals in andamans which are not found anywhere else in the world.
Carlos
I didn't have a clue how great this guy was. After coming back form the trip. i did a search on his name and google spitted out atleast 10 pages of links exactly related to him.
check out an article written by him.
click here
Returned to the room. The jungle was silent with some chirping noises, yes it was silent till the howler monkeys started crying. Howler monkey is supposedly the second loudest mammal on earth ,after the whale. The silent jungle is suddenly awaken by the howler monkey cries and the whole jungle comes alive. The sounds where alternating between brief periods of lull and heavy sounds.
Howler
The open side which didn't bother me that much when i came in the afternoon ,was little scary in the night. Imagine you are in a jungle and the side facing the thick forest is open. Any animal could just walk into you room. Even though no untoward incident has happened in the lodge so far. I didn't wanted to be the first person. I was very tired due to the traveling and I had to wake up at 4 am in the morning for the trek to a nearby lake. i drifted into sleep.
I had a funny dream. There was a statue of me in front of the lodge and there were bunch of people, mainly students surrounding it. My guide rudalfo was explaining that i was the first person ever to be killed by a jaguar in the lodge and this incident made them close the open sided part of the rooms. All the students were sincerely taking note of that piece of information.
----------------------------------------------------------------------------------
Why river meanders??
Meanders are formed by erosion. As rivers move from source to mouth, they carry sediment and other material. Energy is needed to carry this sediment. But if the river has some spare energy, it can erode or wear away its bed, banks and other parts of the river.
Most erosion normally occurs on the outside bend of a meander. This is because the water has further to travel. Also, pieces of sediment may be thrown against the river banks to wear them away. On the inside bend of a meander, the water is flowing more slowly as it has less distance to travel. There is normally deposition on the inside bend. This is because the sediment is too heavy for the river to carry. Some inside bends of meanders can look like beaches. Sand and mud are deposited there. Over the time more sediments get deposited on the inside bend and more erosion on the outside leading to an S shape.
what is an Ox-bow lake??
An oxbow is a crescent-shaped lake lying alongside a winding river. The oxbow lake is created over time as erosion and deposits of soil change the river's course.
When meander bends become giant loops, there is a thin piece of land left between the beginning and the end of the meander. This is the meander neck.
As the river neck becomes very narrow, the river can break through. For a short time, water flows both round the meander (which is now called a backwater) and across the meander neck.
Eventually the river cuts off the backwater completely and flows across what used to be the meander neck. For a short time, an oxbow lake is left behind. It is called an oxbow lake because it is shaped like the old fashioned 'U' shaped yoke that was once used to hitch an ox to a plough. The oxbow lake lasts until it becomes overgrown with weeds and filled in with soil. This happens quite quickly as it is cut off from the main river and therefore doesn't get any water.